The scenic Iron Gates Gorge

The Lepenski Vir Mesolithic site

River Cruise
from
£1,199
per person
5 nights
Including optional travel insurance or a price reduction of £20 if not required
Scenic Vistas of the Danube
The Danube
VIP on selected river cruises

Half board at hotel/All inclusive on ship
Admire the natural beauty of the lower Danube
Enjoy an overnight stay in Romania's capital Bucharest, where an included tour provides an introduction to the city. Then, relax and admire the dramatic scenery along the Danube from the comfort of your ship, stopping to visit the ancient Lepenski Vir Mesolithic Site on an included excursion.
Including...

VIP door-to-door travel service from anywhere on the UK mainland

Included travel insurance

1 night Half Board in a hotel, 4 nights All Inclusive aboard the ship

14 meals: 5 breakfasts, 4 lunches and 5 dinners

Free bar open 15 hours a day on the ship†

Wine, beer and soft drinks with lunch and dinner on board the ship

Cruise Host
Plus...
Drinks reception and Captain's dinner
Complimentary Wi-Fi on board
All gratuities on board
Return flights and transfers

Included excursions
City tour of Bucharest
Lepenski Vir Mesolithic Site
†The free bar, open from 9am to midnight, serves alcoholic and non-alcoholic drinks.
24/06/2022 UK to Bucharest
Fly to Romania's capital Bucharest and transfer to the locally rated 4-star Novotel Bucharest (4Q) for an overnight stay with dinner included.
25/06/2022 Bucharest to Silistra
After breakfast at the hotel you'll set off on an included tour of the city to see some of it's highlights.
Later in the morning, transfer to Silistra to embark Spirit of the Danube this afternoon.
Tonight, enjoy dinner on board as you set sail.
26/06/2022 Giurgiu
Relax on board Spirit of the Danube as she sails throughout the day to Giurgiu, arriving later tonight.
27/06/2022 Cruising the Danube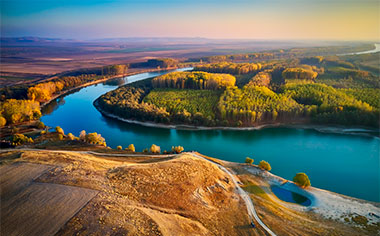 Set sail in the early hours.
Enjoy a day at leisure on board, enjoying the ship's facilities as you sail towards Serbia, following the natural border between Romania and Bulgaria.
28/06/2022 Donji Milanovac
Sail through a particularly scenic stretch of the Danube – the world-famous Iron Gate gorge, between Romania and Serbia, the largest and longest in Europe, and the Iron Gates is the narrowest and deepest part.
Head out on deck this morning and check out how the ship manoeuvres through two locks by the Djerdap power station.
After lunch arrive in the town of Donji Milanovac, set on the banks of the Danube in the midst of the Djerdap National Park, the largest of Serbia's five national parks. The region has a rich history, and this afternoon, you can join an included excursion to the Lepenski Vir Mesolithic site, revealing a series of villages and rock carvings dating back to 6400 BC and the earliest examples of 'monumental' sculptures.
Cruise overnight towards Belgrade.
Donji Milanovac
Serbia
Europe
29/06/2022 Belgrade to UK
Disembark in Serbia's capital after breakfast and travel to the airport for your return flight to the UK.
Scenic Vistas of the Danube
The Danube