Introducing Saga's cruises from Dover
When ships sail from Dover
Our cruises from Dover set sail throughout the spring, summer, autumn and winter. Look at the calendar below and find a trip tailored to your preferred dates.

Our no-fly cruises from Dover
Going on holiday doesn't always mean you have to board a plane. In fact, there's a whole world of luxuries you can experience without having to fly at all. Solo travellers can enjoy Saga cruise holidays, too, with activities and excursions to suit many different preferences.
Our ships sailing from Dover
We pride ourselves on a fleet of ships which guarantee service, personality and unforgettable holiday experiences in equal measures. Allow yourself to be pampered with first-class dining and an impressive two members of staff for every three passengers. If you would like to cruise from the UK at an alternative port, why not take a look at our cruises from Portsmouth?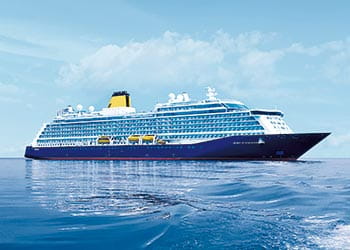 Spirit of Discovery
Spirit of Discovery takes the charms of a boutique hotel to the seas, featuring cabins complete with private balconies – perfect for watching sunsets.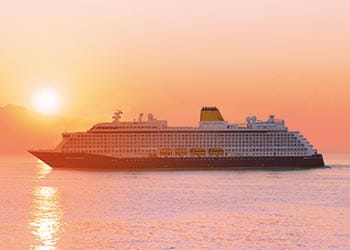 Spirit of Adventure
Our second wave of boutique luxury is here, thanks to our newest ship Spirit of Adventure.
Dover, Gateway to England, is home to one of the UK's most modern and progressive cruise ports. Opened in 1997, its position on the south east coast makes it ideal if you want to travel to the Baltic, Norway and Scandinavia, and with the busiest ferry port in Europe, the town is easily reached by road. And the iconic White Cliffs are the perfect setting for taking to the oceans and sailing away.
Travelling by car
Postcode for Sat Nav: CT17 9DQ
Dover Cruise Port is approximately 70 miles from London. The M20/A20 is the best option for most passengers, and the A20 reaches Dover at the Limekiln roundabout. From there, the Dover Cruise Terminals (Western Docks) are signposted right. Head round the roundabout and drive into the terminal car park.
Alternatively, take the M2 and continue on to the A2 at Faversham. Follow the A2 to Dover's Eastern Docks roundabout and turn left onto the A20. Drive along the A20 through Dover to the Limekiln roundabout. Turn left and drive into the terminal car park.
Car parking
Should you wish to drive to Dover, the terminal has more than 1,000 car parking spaces. The car park is within easy reach of both terminals but we recommend you allow 20 minutes to park and walk in.
24-hour security surveillance cameras are in operation and the car park is patrolled by Dover Harbour Police. Parking will be included for the duration of your cruise if you choose this option.
Travelling by train
The HS1 High Speed train travels from London to Dover Priory in just over one hour. Dover Priory is just one mile from the Dover Cruise Terminals, a five-minute taxi ride or 25-minute walk. There is a taxi rank at Dover Priory train station and outside both cruise terminals.
Port facts
Dover Cruise Port welcomed its first cruise ship in May 1997. Since then it has received massive investment and today it boasts two passenger terminals welcoming more than 200,000 cruise passengers every year. The Port has capacity to hold three cruise ships at once and is used by over 20 cruise lines.
Port facilities
Dover has two state-of-the-art Cruise Terminals, both offering plenty of seating in the waiting areas and a café-bar. The check-in desks are modern and efficient and there is an information desk.