Cruises from the UK
Introducing Saga's cruises from the UK
From door to shore, Saga cruises from UK ports are easy and hassle-free. We make sure that getting to a departure point is as simple and seamless as possible. Simply pick from the following ports:
Your UK cruise departure points:
To get to your ship, you can either choose our complimentary chauffeur service, taking you right from your home to the ship (up to 250 miles each way). Or, you can also select another option from our included travel service, such as rail or coach travel, or complimentary car parking near the port if you'd rather drive yourself. Just choose what's best for you, and leave the rest to us.
Countries we visit from the UK
Cruises departing from the UK give you access to some of the world's finest holiday destinations. Sail to the Canary Islands, and witness otherworldly terrains, taste Spanish tapas at a port stop on a Mediterranean cruise, or you can even set sail for the exotic shores of Caribbean paradises like Trinidad or Antigua. All starting from your front door.
Some cruises from the UK also travel to destinations around coastal Britain, taking you to some of the best attractions of home.
When ships sail from the UK
Saga cruises from the UK depart throughout the year. Whether you're after a spot of winter sunshine or a mid-summer getaway, you'll be able to find a cruise holiday you desire through us.
Choosing your cruise
When you choose a cruise from the UK with Saga, you enjoy benefits such as all-inclusive drinks, specialist dining packages and chauffeur services to start your holiday as you mean to continue. If you don't love your cruise first time round, then we'll happily refund your cost (subject to terms and conditions – see your Saga guarantees for details).
Our cruises from the UK
Our cruises departing from UK ensure excellent service and an intimate cruise experience like no other. We've got two members of staff for every three passengers, making your every second on board as gratifying as possible.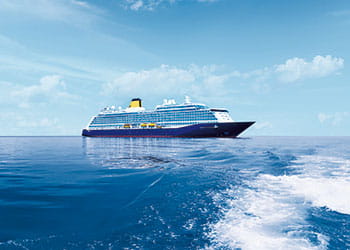 Spirit of Discovery
Spirit of Discovery takes the charms of a boutique hotel to the seas, featuring cabins complete with private balconies – perfect for watching sunsets.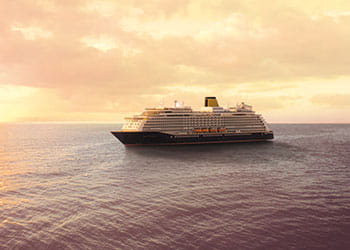 Spirit of Adventure
Launching 2020, our second wave of boutique luxury is here, thanks to our newest ship Spirit of Adventure.
Cruise line partners sailing from the UK
We want to meet as many cruise dreams as possible, so we've partnered with providers who help to bring the Saga experience to all four corners of the globe. These cruise lines have been carefully selected by our team of experts, so you'll be in good hands throughout the course of your journey.