No Fly Cruises from the UK
Our no-fly cruises from the UK all depart from Dover or Portsmouth
Cruise aboard Spirit of Adventure or Spirit of Discovery, and you don't have to worry about visiting the airport. That's because all our boutique cruises conveniently start from the UK ports of Dover or Portsmouth.
Best of all, we include a complimentary chauffeur service as standard on every cruise, so you can be picked up from home and driven to your departure port, completely hassle free.
Every Saga boutique cruise departs from the UK
Quick and easy check in at Dover or Portsmouth
Avoid large crowds at the airport
Pack as much luggage as you like
Cruise direct to destinations throughout Scandinavia, Canary Islands, the Mediterranean, the USA and the Caribbean
Your UK cruise departure points:

Skip the airports
If you are looking to avoid the hustle and bustle of the airports, or simply want to enjoy a holiday without flying, our boutique cruises are ideal. They are perfect for nervous flyers, and you don't have to worry about delayed departures, waiting around in large crowds, and all the other stresses that visiting an airport can bring.
Travel in comfort and style
Start your holiday at your own front door with our complimentary UK travel service. Just leave it all to us! Your chauffeur will pick you and your bags up and drive you to the port. Want to drive yourself? That's no problem either. We'll provide free parking for the duration of your cruise.


Packing made easy
Another big benefit of avoiding the airports, is no luggage restrictions. Simply pack everything that you need and leave it all to your chauffeur. Worried you can't carry it all? Even porterage is included when you arrive onboard the ship. All we ask if that no single item of luggage exceeds 25kg, just to make it easier for our crew to deliver suitcases to your cabin.
Relax straight away
Unlike the hours spent waiting around at airports and the long transfers to your accommodation, on our cruises your holiday starts the moment you step aboard. Check-in is so much easier, and you can settle in to your luxurious cabin straight away, complete with your very own balcony. Then, within moments you'll be at the sail away party enjoying all-inclusive drinks and entertainment as you cruise to your first destination.

Discover so many destinations, without the need to fly
Just because you're sailing away on a no-fly cruise, you don't have to compromise where you'll discover. Destinations you can explore include the stunning Mediterranean and year-round sunshine of the Canary Islands. Or experience the contrasting cultures of Northern Europe, from the fjords of Norway and Iceland to the stunning Baltic.
Looking for a faraway adventure? You can also enjoy unforgettable voyages to see the autumn scenery of the USA and Canada, or go island hopping around the paradise shores of the Caribbean.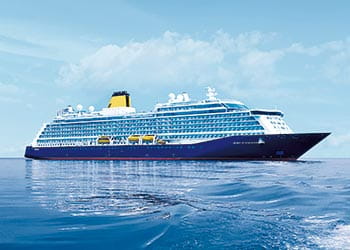 Spirit of Discovery
Spirit of Discovery takes the charms of a boutique hotel to the seas, featuring cabins complete with private balconies – perfect for watching sunsets.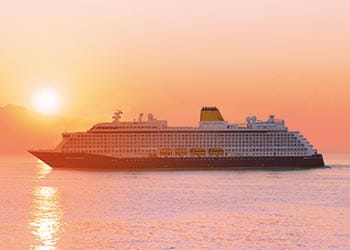 Spirit of Adventure
Our second wave of boutique luxury is here, thanks to our newest ship Spirit of Adventure.