River Cruise
Grand Voyage to the Black Sea
The Danube
from
£3,299
per person
2 passengers
16 nights
Including optional travel insurance or a price reduction of £108 if not required
New holiday

VIP on selected river cruises

Full board
Sail from Budapest to Vienna
You'll be swept off your feet by the spectacular scenery on this epic 16-night river cruise. Your adventure begins in Hungary's cosmopolitan capital Budapest, where you'll have a choice of included excursions: a sightseeing tour of the city highlights or sample the local food and culture of Budapest. Then step aboard Spirit of the Danube to begin your cruise, stopping firstly at Novi Sad for a walking tour of the old town with it's fine 18th-century architecture.
Dramatic scenery awaits at the world-famous Iron Gate gorge and the wildlife-rich Danube Delta, where you can venture further into the UNESCO-listed Biosphere Reserve on an optional exploration. Then contrast and compare the sights of three capital cities: Belgrade, where an included coach tour takes in Republic Square and visits the Kalemegdan Fortress; Bratislava with its Habsburg architecture and 18th-century palaces; and Vienna, where an included tour heads to the Ringstrasse which encircles the old city. You'll even have the opportunity to enjoy an optional performance of music by Mozart and Strauss in one of the great formal concert houses of Imperial Vienna – a truly memorable occasion and fitting finale.
Including...
Included travel insurance
47 meals: 16 breakfasts, 15 lunches and 16 dinners
Wine, beer and soft drinks with lunch and dinner
Cruise Host
Plus...
Drinks reception and Captain's dinner
Complimentary Wi-Fi on board
All gratuities on board
Return flights and transfers
Included excursions
Budapest city tour OR Budapest culinary walking tour
Tour of Novi Sad
Bucharest city tour
Belgrade and the Kalemegdan Fortress
Bratislava city tour
Vienna city tour OR Vienna culinary walking tour
Interactive maps and audio headsets for independent exploration
Celebrity Guest
Cruises departing on April 18, 2022 will be joined by humanitarian and author Terry Waite for the first seven nights. Terry travelled the world in the 1960s and 70s establishing aid and development programmes and supporting health and education initiatives. As the Archbishop of Canterbury's Assistant for Anglican Communion Affairs, he negotiated the release of hostages in Iran, Libya and Lebanon. Terry was taken hostage in Beirut in 1987 and held for 1,763 days before his release. He is now a best-selling author and lecturer.
Day 1 Uk to Budapest
Fly to Hungary's capital and embark Spirit of the Danube.
Enjoy a welcome cocktail reception and dinner on board as your ship remains moored here overnight.
Day 2 Budapest 🎧
Your ship remains moored in Budapest until lunchtime. This cosmopolitan city is divided by the Danube into Buda and Pest. An included city tour this morning reveals some of the city's highlights, from the UNESCO World Heritage-listed Buda Castle that sits above the river on the west bank, to the impressive Hungarian Parliament buildings in Pest on the east bank.
Alternatively, perhaps opt for an included food-themed experience that enables you to sample the local food and culture as part of a small group. This tour begins with a tram ride to the First Strudel House, where you'll see a live strudel-making demonstration and will even have the opportunity to make your own. You'll also take a walk through the city to enjoy a slice of authentic chimney cake and visit the Central Market Hall where you can sample authentic Hungarian salami.
Set sail over lunch and cruise through the remainder of the day and night.
Day 3 Novi Sad
Arrive late morning in this city where European and Balkan cultures meet, with this stretch of the Danube acting as a natural border. Novi Sad is the capital of Vojvodina, the northern Autonomous Province of Serbia. Situated on the Danube between Budapest and Belgrade, it's a treasured regional and cultural centre. You can enjoy a short walking tour of the old town centre, which boasts a fine selection of 18th and 19th-century architecture. Proceeding through the streets to an old family wine cellar, which is also a producer of local honey. Whilst here you treat your taste buds to the delicious wines and sweet honey. Set sail again this evening.
Day 4 Sailing through the Iron Gate
This morning sail through a particularly scenic stretch of the Danube – the world-famous Iron Gate gorge, between Romania and Serbia, the largest and longest in Europe, and the Iron Gates is the narrowest and deepest part. No doubt you'll want to head out on deck to admire this particularly scenic stretch of the river, as the Danube passes through the Carpathian mountains and the foothills of the Balkans. Plus you can follow proceedings as the ship manoeuvres through two locks by the Djerdap power stations.
Continue sailing overnight.
Day 5 Rousse 🎧
This morning you will arrive in Rousse, the largest port in Bulgaria and often referred to as 'Little Vienna'. Perhaps discover the city on an optional tour this morning. Resume your cruise at lunchtime and sail through the day and night to Romania.
Day 6 Danube Delta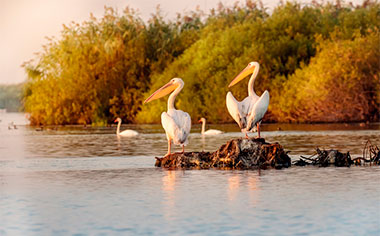 Enjoy the scenery as you cruise the wildlife-rich Danube Delta.
Much of it is a protected reserve, as the meandering river, reed beds and groves of willow, oak and poplar provide sanctuary for over 300 species of bird. This morning you may like to join an optional small boat cruise further into this UNESCO-listed Biosphere Reserve. Set sail at lunchtime and cruise overnight towards Chiciu.
Day 7 Fetesti
Arrive in Fetesti this morning and disembark after breakfast for a full day trip to Bucharest.
An included tour of this lively city reveals some of its attractions, such as the impressive Palace of the Parliament, Cotroceni Palace where the President of Romania resides, and grand Cretulescu Palace. Rejoin your ship in Oltenita in time for dinner on board.
Day 8 Cruising the Danube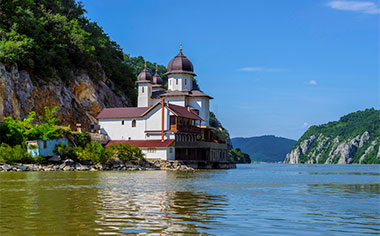 Relax on board Spirit of the Danube and admire the changing scenery as you cruise into Serbia.
Day 9 The Iron Gates to Donji Milanovac
Spend the day on a leisurely journey along the waters of the Danube, passing through the Carpathians, and the foothills of the Balkans to the 'Iron Gates'.
This strikingly scenic stretch of river is framed on both sides by sheer cliffs that are dotted with frills of greenery, so make sure you're on the Upper Deck with your camera! In ancient times the water level in the Iron Gates gorge was much lower and and it was considered one of the most dangerous stretches of river in Europe to navigate. The riverbed rocks and low water levels combined to make this part of the river particularly treacherous for passing ships, but now a complex system of dams and locks ensures this is no longer the case.
Enjoy passing through the scenic gorge on your way to Donji Milanovac, a Serbian town with a special history and a beautiful setting in the midst of the Djerdap National Park. You may like to join an optional excursion to the Lepenski Vir Mesolithic site, in the Derdap Gorge.
Set sail for Belgrade this evening.
Donji Milanovac
Serbia
Europe
Day 10 Belgrade 🎧
Arrive in Serbia's capital, one of the oldest European cities, this morning for a full-day stay.
Enjoy an included coach tour that takes in Republic Square where the National Theatre and Museum are located. You'll also visit Saint Sava basilica, one of the world's largest churches, and the Kalemegdan Fortress, parts of which date back to the 18th century. The site of military fortifications from the 2nd century onwards, it has been tussled over by the Romans, the Goths, the Huns, the Avars, the Serbs, the Turks and the Austrians in turn. Today it also serves as Belgrade's central park for all to enjoy.
This afternoon perhaps join an optional excursion visiting the Royal Palace and Tito's Memorial. This evening another optional excursion joins the Belgrade Folklore Group for an evening of traditional Serbian entertainment.
Depart late tonight and cruise overnight towards Croatia.
Day 11 Vukovar
Arrive in Vukovar, the largest Croatian town and river port on the Danube, during lunch. Vukovar was a thriving town before the Yugoslav War and its unscathed belle époque architecture can be compared with shell-scarred buildings preserved in memoriam, during your visit here.
Set sail later this afternoon.
Vukovar
Vukovar-Syrmia
Croatia
Europe
Day 12 Mohács to Kalocsa
Early this morning arrive in Mohács, an important port of call for Danube traffic for many centuries. You can disembark to spend the morning and afternoon on an optional excursion into the Hungarian plains where you can enjoy seeing a demonstration of traditional Hungarian horsemanship by local Magyar cowboys on an optional full day excursion.
Your ship continues to Kalocsa pausing briefly for excursion participants to rejoin her and setting sail again this evening and cruising overnight.
Day 13 Esztergom
Arrive before breakfast and this morning you can explore independently at leisure or perhaps join an optional tour to discover the town's highlights and the artistic community of Szentendre.
Sail on over lunch and cruise through the remainder of the day and overnight.
Day 14 Bratislava 🎧
This morning you arrive in Slovakia's capital, Bratislava.
Spend an enjoyable day exploring the city's old quarter, overlooked by the massive rectangular castle, and admiring the attractive Habsburg architecture on an included morning city tour. Stroll through ancient cobbled streets to Bratislava Castle for a bird's-eye view of the city and see the Gothic-style Cathedral, where 11 Kings of Hungary were crowned while Turks occupied their own capital. This afternoon a choice of optional excursions provide the opportunity to uncover traditional Majolica pottery and Slovakian wine practices or to sample locally brewed beer at the UFO observation tower.
Before dinner set sail again, cruising overnight bound for Melk.
Bratislava
Slovakia
Europe
Day 15 Melk to Weissenkirchen 🎧
Arrive after breakfast to explore the historic town of Melk, a charming medley of architectural styles from across the centuries.
Its jewel is the abbey which sits on a bluff above the town. This masterpiece of baroque architecture, with a lavishly decorated interior contains innumerable artistic treasures and can be visited on an optional tour. At lunchtime you'll cruise along the Danube to pretty Weissenkirchen where the late afternoon and evening are at leisure for you to explore independently.
Set sail late tonight and cruise towards the Austrian border.
Weissenkirchen
Austria
Europe
Day 16 Vienna 🎧
Before breakfast arrive in Vienna.
This morning you can look forward to either an included city tour with a drive around the Ringstrasse, encircling the old city, or perhaps opt for an included culinary walking tour with the opportunity to sample some of the famous sandwiches for which Vienna is renowned, such as the local speciality sausage and horseradish, and the delicious Mozart Thaler sweet chocolate biscuits. This afternoon an optional excursion visits grand Schönbrunn Palace. You may wish to spend the final evening of your holiday in style – after dinner on board, you can attend an optional performance of music by Mozart and Strauss in one of the great formal concert houses of Imperial Vienna.
Day 17 Vienna to UK
Disembark Spirit of the Danube after breakfast and travel to the airport for your return flight to the UK.
Tour of Rousse
After a short drive through the beautiful valley of the Lom River you can visit the only active rock monastery in Bulgaria. Situated 10 kilometres south of Rousse, it is devoted to a local saint, St Dimitrius of Bassarbovo. Once there, a short stone staircase will lead you to an extraordinary rock church and a rock cave where the monk lived in the 17th century.
After this visit you will be taken back to the city where you will enter the Holy Trinity Church to hear its turbulent history followed by a guided walk through the town. During the visit to Liberty square you'll be treated to a small Bulgarian snack with the local wine or coffee.
Walking Grade 3
Three-and-a-half hours
Optional

on 16 nights itinerary
Danube Delta exploration
Explore Europe's second largest delta through a series of channels and lakes that cannot be reached by large ships. This UNESCO Biosphere Reserve has a wild landscape and a diversity of habitats that attract many species of birds. Near Nebunu Lake, during the breeding season, you may see pelicans plus a large variety of other bird species such as heron, swan and wild duck, although obviously we cannot guarantee sightings.
Walking Grade 1
Three hours
Optional

on 16 nights itinerary
Lepenski Vir Mesolithic Site
The Lepenski Vir Mesolithic Site was found in the Derdap Gorge on the banks of the Danube. First discovered by peasants in 1940, serious excavation work began in 1965 uncovering a series of villages, dating back to 6,400 BC. In 1970, the Lepenski Vir finds were moved to higher ground 35 meters above the original site to avoid the flooding that took place when the Derdup Dam was opened. Uncharacteristically, the villages revealed careful planning in both house construction and positioning and, even more significantly, a number of sculptures carved out of rock. Eerily combining the features of humans and fish, these figures are the earliest known examples of 'monumental' sculpture. Explore the site with a guide, and visit the museum to see finds from the dig and films about the archaeological research. There will be time at the end of the excursion to see a little of the pretty town of Donji Milanovac before the ship departs.
Walking Grade 3
Two-and-a-half hours
Optional

on 16 nights itinerary
Royal Palace and Tito Memorial
Visit the Royal Compound, which is situated on Dedinje hill, one of the seven hills across which Belgrade is sprawled. The walking tour visits the Royal Palace, the residence of Crown Prince Alexander II and Princess Katherine and the Church of Saint Andrej the First, the patron of the Royal family. The Royal Palace was built between 1924 and 1929 with the private funds of King Alexander I Karadjordjevic (the grandfather of current Crown Prince Alexander Karadjordjevic).
Walking Grade 3
Four-and-a-half hours
Optional

on 16 nights itinerary
Vukovar and the Ovcara Memorial
Vukovar was the site of one of the biggest battles of the Yugoslav War and many shell-scarred buildings have been deliberately preserved as a memorial. Pre-war architecture can be seen in the historic city centre with its baroque arches and classical buildings. High above the Danube, the city is dominated by the Franciscan Monastery and the Saint Philip and Jacob Church. You'll also visit the Ovcara Memorial, dedicated to those who died in the tragic Vukovar Hospital massacre in 1991.
Walking Grade 3
Three hours
Optional

on 16 nights itinerary
Kalocsa and Puszta
Discover traditional Hungary during this fascinating full-day excursion into the Puszta or Great Hungarian Plain. In this historic home of gulyas - cattle herdsmen, csikos - horsemen, and Hungarian Roma, the cattle, horses, sheep and buffalo roam free, controlled only by skilled riders. You'll be treated to astonishing displays of horsemanship that date back centuries, where the necessity for horses to lie down on command ensured survival in times of war.
Afterwards you will have an opportunity to ride in a horse-drawn carriage, and be offered a nip of local brandy and savoury scones. Refreshments are included. Later continue to Kalocsa and find out more about the Hungarian way of life with a visit to the Folk Art House to see wall and furniture painting in a former peasant's cottage. You'll also enjoy lunch and learn about the significance of the favourite regional spice with a visit to the Paprika Museum.
Walking Grade 2
Full day
Optional

on 16 nights itinerary
Szentendre
Join a visit to the charming artists' village of Szentendre, where the cobbled streets brim with fine galleries and museums – including one dedicated to Hungary's celebrated ceramics artist, Margit Kovács. After the tour you'll have some free time to explore at leisure.
Walking Grade 3
Four-and-a-half hours
Szentendre
Hungary
Europe
Optional

on 16 nights itinerary
Majolica Pottery & Slovakian Wine Tour
Drive from Bratislava into the Small Carpathian region. Your first stop is at a Pottery workshop where the tradition of Slovak Folk Majolica dates back to the 16th century. It was brought to western Slovakia by Habans, who resettled from Germany to Switzerland. They manufacture more than 200 kinds of products here and production is mainly focused on traditional decors and shapes, thereby conserving cultural heritage of this region. The production is colourful, blue, green and majolica of Haban colours. There may also be an opportunity for guests to try out the pottery wheel! Afterwards continue to a traditional wine cellar where you will have the opportunity to taste some of the wines that this region is famous for. Your knowledgable host will explain wine making processes and give an introduction to the wines that you will be tasting.
Walking Grade 3
Three-and-a-half hours
Optional

on 16 nights itinerary
Beer tasting at the UFO
Beer was first brewed in Bratislava by the Celts 2,000 years ago and has long competed with wine for the most popular drink in the region. This excursion ventures up to the UFO observation tower where you'll enjoy panoramic views of the city and the opportunity to sample a selection of locally brewed beer.
Walking Grade 2
Two hours
Bratislava
Slovakia
Europe
Optional

on 16 nights itinerary
Melk Abbey
Set on a promontory overlooking the Danube, the wonderfully ornate Melk Abbey is a masterpiece of high baroque architecture. Work on the present monastery began in 1702. The imposing exterior features an octagonal dome and symmetrical towers, while the interior is lavishly decorated and contains many artistic treasures. After touring the abbey enjoy some free time in the lovely garden.
Walking Grade 3
Two and a-half hours
Melk Abbey
Melk
Austria
Europe
Optional

on 16 nights itinerary
Schonbrunn Palace
Visit the sumptuous Imperial Summer Palace of the Hapsburgs, the centre of royal life in the 18th century, inspired by Versailles. The UNESCO-listed palace is filled with priceless treasures, while the vast grounds feature well-manicured lawns and colourful flower beds.
Walking Grade 3
Four hours
Schonbrunn Palace
Vienna
Austria
Europe
Optional

on 16 nights itinerary
Vienna evening concert
After dinner on board your ship, travel to the baroque Palais Auersperg or one of Vienna's other impressive palaces near the Ringstrasse, for a concert of music by Mozart and the Strauss family. Performance details will be provided on board ship.
Walking Grade 1
Two-and-a-half hours
Optional

on 16 nights itinerary