River Cruise
Danube Splendours for solo travellers
The Danube
from
£2,849
per person
1 passenger
7 nights
Including optional travel insurance or a price reduction of £20 if not required
New holiday

VIP on selected river cruises

Half board at hotel/Full board on ship

Solo Travellers
Admire the riverscapes from Budapest to Bucharest
You'll be swept off your feet by the spectacular scenery on this relaxing cruise exclusively for solo travellers. Sailing aboard our new ship – Spirit of the Danube – your journey takes in Hungary, Serbia, Bulgaria and Romania as the River Danube wends its way towards the Black Sea. In addition to the stunning scenery, including that of the Iron Gates gorge and the Danube Delta, you'll have time to explore some fascinating ports of call.
Included excursions in Budapest, Novi Sad, Rousse and Bucharest enable you to see the main attractions and exploring independently is easy too with the inclusion of interactive maps and audio headsets in many ports of call. Plus, you can also look forward to an overnight hotel stay in the lively city of Bucharest, a fitting finale to an exceptional holiday.
Including...
Included travel insurance
1 night Half Board in a hotel, 6 nights Full Board aboard the ship
20 meals: 7 breakfasts, 6 lunches and 7 dinners
Wine, beer and soft drinks with lunch and dinner on the ship
Cruise Host
Plus...
Drinks reception and Captain's dinner
Solos Host
Solos drinks party
Complimentary Wi-Fi on board
Entertainment and activities on the ship
All gratuities on board
Return flights and transfers
Included excursions
Budapest city tour OR Budapest culinary walking tour
Walking tour of Novi Sad
Rousse walking tour
Bucharest city tour
Interactive maps and audio headsets for independent exploration
Day 1 UK to Budapest
Fly to Hungary's capital and embark Spirit of the Danube.
Enjoy a welcome cocktail reception and dinner on board as your ship remains moored here this overnight.
Day 2 Budapest 🎧
Your ship remains moored in Budapest until lunchtime. This cosmopolitan city is divided by the Danube into Buda and Pest. An included city tour this morning reveals some of the city's highlights, from the UNESCO World Heritage-listed Buda Castle that sits above the river on the west bank, to the Hungarian Parliament buildings in Pest on the east bank.
Alternatively, perhaps join an included culinary walking tour, which features a tram ride to the First Strudel House for a live demonstration, followed by a walk through the city to sample authentic chimney cake and to visit Central Market Hall where you can try authentic Hungarian salami.
Set sail over lunch and cruise through the remainder of the day and night.
Day 3 Novi Sad
Arrive late morning in this city where European and Balkan cultures meet, with this stretch of the Danube acting as a natural border.
Novi Sad is the capital of Vojvodina, the northern Autonomous Province of Serbia. Situated on the Danube between Budapest and Belgrade, it's a treasured regional and cultural centre. You can enjoy a short included walking tour of the old town centre, which boasts a fine selection of 18th and 19th-century architecture. Proceeding through the streets to an old family wine cellar, which is also a producer of local honey. Whilst here you have the opportunity to treat your taste buds to the delicious wines and sweet honey.
Set sail again this evening.
Day 4 Sailing through the Iron Gate
This morning sail through a particularly scenic stretch of the Danube – the world-famous Iron Gate gorge, between Romania and Serbia, the largest and longest in Europe, and the Iron Gates is the narrowest and deepest part. No doubt you'll want to head out on deck to admire this particularly scenic stretch of the river, as the Danube passes through the Carpathian mountains and the foothills of the Balkans. Plus you can follow proceedings as Spirit of the Danube manoeuvres through two locks by the Djerdap power stations.
Continue sailing overnight.
Day 5 Rousse 🎧
This morning you will arrive in Rousse, the largest port in Bulgaria and often referred to as 'Little Vienna'. See more of the city on an included guided walk, which includes entrance to the Holy Trinity Church.
Resume your cruise at lunchtime and sail through the day and night to Romania.
Day 6 Danube Delta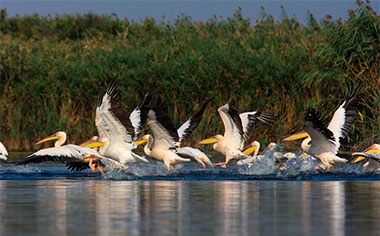 Enjoy the scenery as you cruise the wildlife-rich Danube Delta. Much of it is a protected reserve, as the meandering river, reed beds and groves of willow, oak and poplar provide sanctuary for over 300 species of bird. This morning you may like to join an optional small boat cruise further into this UNESCO-listed Biosphere Reserve.
Set sail at lunchtime and cruise overnight.
Day 7 Fetesti to Bucharest
Arrive in Fetesti this morning and disembark your ship after breakfast before continuing by coach to Bucharest for an included afternoon tour of the city.
Discover some of its highlights, such as the impressive Palace of the Parliament, Cotroceni Palace where the President of Romania resides, and historic Cretulescu Palace.
Tonight you'll stay in the heart of the capital, at the locally rated 4-star Novotel Bucharest (4Q) with dinner included.
Day 8 Bucharest to UK
Check out after breakfast for your return flight to the UK.
Danube Delta exploration
Explore Europe's second largest delta through a series of channels and lakes that cannot be reached by large ships. This UNESCO Biosphere Reserve has a wild landscape and a diversity of habitats that attract many species of birds. Near Nebunu Lake, during the breeding season, you may see pelicans plus a large variety of other bird species such as heron, swan and wild duck, although obviously we cannot guarantee sightings.
Walking Grade 1
Three hours
Optional

on 7 nights itinerary