Lamego and the stairway from heaven

The university city of Coimbra

River Cruise
Lisbon and the Douro Valley exclusively for solo travellers
Lisbon and the Douro Valley exclusively for solo travellers
The Douro
Solo Travellers

Cruise & stay

All Inclusive on board ship
Mix city and countryside on this leisurely cruise
This holiday combines a three-night stay in Lisbon with a scenic river cruise through the Douro Valley and a hop across the border to Salamanca in Spain. Discover the best the region has to offer – from the oldest city, Coimbra, to Lamego, the exquisite gardens of Mateus Palace to the wine cellars of Oporto.
Including...
VIP door-to-door travel service from anywhere on the UK mainland

Included travel insurance

3 nights in a hotel, 7 aboard the ship

25 meals: 10 breakfasts, 7 lunches and 8 dinners

Free bar open 12 hours a day on the ship†

Saga Cruise Assistant
Plus...
Return flights and transfers
Meet and greet at the airport
Airport lounge and fast-track security at Heathrow, Gatwick or Manchester
Drinks reception and Captain's dinner
Entertainment and activities on the ship
Solos host on board the ship

Included excursions
Sightseeing tour of Lisbon
City tour with lunch in Coimbra
Tour of Lamego
Visit Figueira Castelo de Rodrigo
Sightseeing in Salamanca
Casa de Mateus Palace
A tour of Oporto including a port wine cellar visit
†The free bar on the ship is open from 11am to 11pm for non-branded alcoholic and non-alcoholic drinks.
Day 1 UK to Lisbon
Fly to Lisbon and transfer to the 3-star My Story Hotel Tejo (3Q) for a three-night stay on a bed-and-breakfast basis, with dinner included tonight.
Day 2 Lisbon
Discover this historic city on an included walking tour this morning. Lisbon is the oldest city in western Europe, dating from 1200 BC, and so boasts a wealth of ancient and historic sites and monuments. Much of the city was levelled in 1755 by a catastrophic earthquake, but then rebuilt as an elegant city with wide boulevards and a great riverfront square – Praça do Comércio.
Lisbon is perhaps most famous for the Belém Tower, a Moorish fortification on the banks of the Tagus river that once protected the city from pirates. It was also the setting-off point for many of Portugal's famous explorers on their voyages – many of them are commemorated on the nearby Monument to the Discoveries, which features an astonishing 33 figures from the Portuguese Age of Exploration, on the prow of a ship.
Day 3 Lisbon
Today is at leisure, so why not make the most of your day in the city with some independent exploration? Perhaps visit the intricate Jerónimos Monastery, final resting place of Portuguese explorer Vasco de Gama, or take a stroll through the quirky sloping streets of the Bairro Alto district, the 16th-century working class quarter. It has always attracted writers and artists and there are interesting shops to browse and bars and cafes where you can pause for a drink and a spot of people watching. It's really lively at night when the Fado bars and restaurants fill up with local people and tourists alike.
Day 4 Lisbon to Coimbra to Oporto
After breakfast you'll begin your journey to Oporto, but you'll stop en route at the historic city of Coimbra for an included tour. The impressive Santa Cruz Monastery is the final resting place of the first two kings of Portugal, and a national monument. The Old Cathedral, or Sé Velha, dates back to the period when Coimbra was the capital of Portugal, and is a dazzling mix of Romanesque, baroque and Renaissance architecture. The city is also home to one of Europe's oldest universities, and the oldest in Portugal.
Continue your journey to Oporto where you'll board your ship, the Douro Spirit, moored in Vila Nova de Gaia on the south bank of the Douro.
Oporto
Porto
Portugal
Europe
Douro
Day 5 Oporto to Régua to Pinhão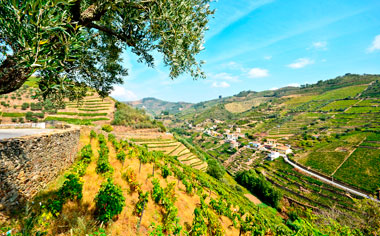 Your ship departs during breakfast and heads to Régua, arriving before lunch.
This afternoon, travel by coach to Lamego, one of the most attractive cities in Portugal. See the elaborate Sanctuary of Nossa Senhora dos Remédios, which is set atop nine steep terraces overlooking the town. There'll be free time to explore this impressive baroque church, then return to the city to visit the lovely Gothic cathedral, which in parts dates back to the 12th century. Re-join your ship in Pinhão.
This evening there'll be an included trip to another local vineyard for dinner, with wine and entertainment included.
Pinhão
Alijo
Vila Real
Douro
Portugal
Europe
Day 6 Pinhão to Vega de Térron
Depart Pinhão early this morning and take in the scenery as you sail towards Vega de Térron. This afternoon, join an included excursion to Figueira de Castelo Rodrigo, a small medieval village with a stunning hilltop location. See the 18th-century baroque church and stroll around the village in your own time. Back on board ship look forward to a traditional Portuguese dinner.
Vega de Terron
Castile and Leon
Spain
Europe
Day 7 Vega de Térron to Barca d'Alva
Today join an included excursion across the border to the city of Salamanca in Spain, a UNESCO World Heritage Site famed for its beautiful old university buildings of golden-coloured stone.
The journey here usually takes about two hours, during which your guide will give an interesting talk on Spanish history. After half an hour of free time join a walking tour with a local guide to the Plaza Mayor, one of the finest town squares in Spain. You also see the famous cathedral, built in two parts. The original Catedral Vieja, which dates from the 12th century, is now incorporated into the much larger 16th-century Catedral Nueva. Lunch will be served at a local restaurant, followed by a flamenco show to give you a taste of traditional Spanish culture.
Return to the Douro Spirit which will now be in Barca d'Alva and moor overnight.
Barca dAlva
Guarda
Portugal
Europe
Day 8 Barca d'Alva to Pinhão
Depart Barca d'Alva and enjoy the wonderful views as you spend the morning sailing towards Pinhão, arriving after lunch. This afternoon pay a visit to Quinta do Seixo, a local winery. Here you'll join an included tour of the estate, followed by an opportunity to taste their port wines.
The ship remains moored in Pinhão overnight.
Pinhão
Alijo
Vila Real
Douro
Portugal
Europe
Day 9 Pinhão to Régua to Entre-os-Rios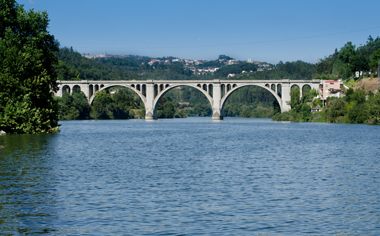 Sail from Pinhão to Regua early this morning.
From here an included excursion visits Mateus Palace gardens. Your guide will give you an introduction to the palace, one of the loveliest country houses in Portugal and which famously features on the Mateus rosé wine label. Explore these exceptional formal gardens as well as admiring the exterior of the palace.
Enjoy the afternoon at leisure on board as the Douro Spirit departs Régua and look forward to a traditional Portuguese folk music show after dinner. Moor overnight in Entre-os-Rios.
Entre os Rios
Douro
Portugal
Europe
Day 10 Entre-os-Rios to Oporto
Spend the morning at leisure as you sail back towards Oporto. Learn the history of Portugal's second-largest city on an included tour. This famous centre of port wine production is beautifully located on the Douro estuary. The coach tour includes a visit to Sé Cathedral, which dates from the 12th century, and is where Phillipa of Lancaster married King Joao I of Portugal in 1387 becoming the first and only English queen of Portugal. Your tour also includes a visit to a port wine cellar where you'll learn about the production of this famous drink and enjoy a tasting. Remain moored in Vila Nova de Gaia overnight.
Oporto
Porto
Portugal
Europe
Day 11 Oporto to UK
Disembark after breakfast and travel to the airport for your return flight home.
Some of the highlights may only be seen on optional excursions at an additional cost, or by exploring independently.
Lisbon and the Douro Valley exclusively for solo travellers
The Douro