You'll be on the right track with our walking holidays
Discover the stunning natural attractions of the Dolomites, venture to the incredible Andes, or discover the beauty of the Croatian island of Korcula.
With carefully crafted itineraries that balance days of walking with days at leisure, and informative hosts who will provide lots of hints and tips, these holidays are the perfect choice if you love nothing more than exploring incredible landscapes on foot.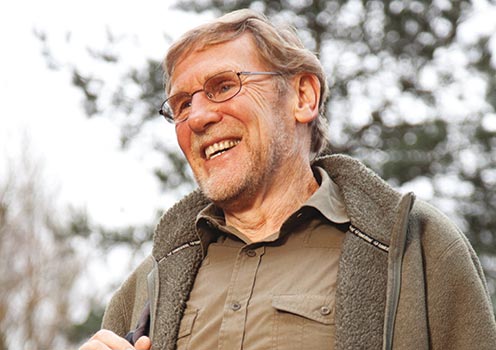 What do you think sparked your interest in walking? Have you always been interested? Where did you learn about walking and acquire the knowledge you convey to guests?
Having been born in Northern Ireland and spending the first 20 years of my life there among relatives in the farming community, walking and exploring in the countryside was natural and formed the basis of a lifetime spent walking all over the world. On reflection, every walk should be a learning experience – that includes learning from mistakes. That knowledge and the sharing of that knowledge with Saga guests since 2009 has been an exciting and rewarding experience.
What do you think is the most interesting/exciting part of your job?
I have always believed that there should be a social side to Saga walking holidays and I'm always amazed that after one meeting, one walk and one dinner together a collection of strangers can become a group with a common interest, looking after and looking out for each other, no one ever feels excluded. Seeing everyone buy into that group ethic is always exciting.
Where is your favourite place in the world to walk? And are there any particular firm favourites with our customers?
My two favourite walking experiences have to be walking in Nepal, which is spectacular, and climbing Kilimanjaro which was very challenging!
Why should they choose Saga?
Anyone who chooses a Saga walking holiday can be assured that the walks are not route marches (in the words of an Irish folk song 'time is not your master'). Neither are they a stroll in the park – they can be challenging but in a good way. I've lost count of the number of guests who've said, "I didn't know I could do that!".
Some guests may be concerned that they may not be up to taking part in a walking holiday – what advice would you give them?
My advice to anyone is to give it a go! You'll meet great people and probably surprise yourself – and the hotels are great!"
A little more about Jack...
Jack has been a Saga walking host since 2009, working in Italy, Croatia, Cyprus and Slovenia but mainly in Spain and Lanzarote. He particularly enjoys challenging walks and has completed most of the long-distance walks in the UK, including the English, Irish and Scottish coast-to-coast walks.
He has trekked in the Himalayas, the Dolomites, the French Alps and the Atlas Mountains in Morocco. He has also completed the 800-kilometre traverse of the Pyrenees from the Atlantic to the Mediterranean.
Ironically Jack lives on Romney Marsh on the South Coast of England – a considerable distance from the nearest mountain!