Garden holidays for budding enthusiasts
Explore the ancient gardens of Croatia, the Moorish landscapes of Spain, or perhaps discover the floral beauty of Dorset in the summer.
You don't have to be green-fingered to appreciate our garden holidays, as an expert host will be with you every step of the way to give you a fantastic insight into the horticultural beauty that surrounds us. Included visits venture into world-acclaimed gardens as well as unknown gems, so you can contrast meticulously maintained estates with the charming untamed beauty of wild meadows.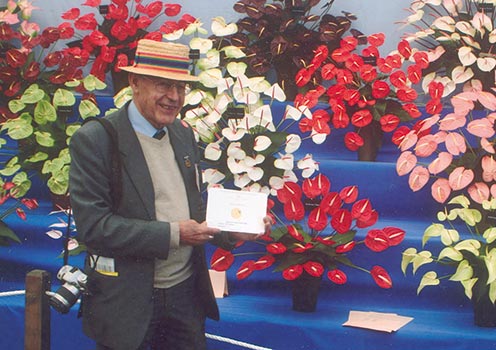 What do you think sparked your interest in gardens? Have you always been interested?
I have always been interested in plants. My parents took me to my first Chelsea Flower Show when I was still at school, so it started from a young age.
Where did you learn about gardens and acquire the knowledge you convey to guests?
I worked at several nurseries and over the years have worked for the park department in London, Harlow and then Cardiff where I started as a technical officer and worked my way up until I was responsible for over 1000 acres of parks, as well as an international stadium.
I worked as a senior lecturer whilst at the same time acting as a curator of gardens and sports grounds. When I began, there were around 1000 different types of plants on the grounds – by the time I left there were over 10,000!
Over the years I have been involved with suggesting and designing Saga garden holidays. I have also been Vice Chairman of two committees at the Royal Horticultural Society and have been exhibiting at the RHS Chelsea Flower Show on behalf of the island of Mauritius.
What do you think is the most interesting or exciting part of your job?
I try to open people's eyes to the beauty you can see, the scenery and the plants. It might be something straightforward or it could be a combination of things. I also like to tell guests about the butterflies and birds that are linked with certain plants.
I see my role as helping people to develop an eye to see beauty in things that they might not otherwise have noticed, to understand why things are beautiful and what is unusual so that they don't miss anything.
What can a customer expect from one of your garden holidays, and why should they choose Saga for their holiday?
I think with the majority of Saga garden holidays you have a less rushed programme. We still do a lot, but at a good pace. and the guests feel looked after. There is a host out in the field, usually a host in the hotel and if going abroad, often staff at the airport too.
You don't even need to be an enthusiast – you can simply enjoy looking at gardens and the wild flora and fauna. Within a group you get people who are interested in different things; it could be plants, garden design or the history.
You travel to various different countries to host Saga Garden Holidays – where in the world is your favourite place to go?
I couldn't choose - everywhere is different. The best plants are different for each country and I like to explain why it is different.
Do you have any interesting stories or anecdotes from your time hosting Saga garden holidays?
I often have guests coming to me at the end of a holiday who say that before they came away they were scared to come as it was the first solo holiday that they had been on without their partner, but that they had had a fantastic time and had the confidence to do it again.
A little more about Roy...
Roy gained experience in a number of nurseries and parks, progressing from gardener to chief officer. As a former senior lecturer and curator of Cannington College, Roy amassed 10,000 kinds of plant, using them to create new hybrids and award-winning exhibits at the Chelsea Flower Show.
He is a member of two RHS committees, and the RHS has awarded him Associate of Honour, an accolade limited to just 100 professional horticulturists.