Copacabana Beach, Rio de Janeiro

The beautiful Chilean fjords

Cruise and Tour Moderate
South American Discovery Cruise & Tour with Rio & Iguazu Falls
South American Discovery Cruise & Tour with Rio & Iguazu Falls
Argentina, Brazil, Uruguay, Falkland Islands and Chile
New

VIP door to door
A South American adventure
This tour of South America will take you to the end of the earth and back again.
Feel the spray of mighty Iguazu Falls on your skin, and the tango heartbeat of Buenos Aires in your soul. You'll navigate the notoriously treacherous waters of Cape Horn and glide through the spectacular beauty of the Chilean fjords.
Sip zingy caipirinhas on Copacabana beach and smooth red wines in Chile's world-renowned Casablanca wine country. This is a South America tour of unbelievable experience.
Including...

VIP door-to-door travel service

Included travel insurance

7 nights in hotels, 14 nights cruise on Oosterdam and 2 in flight

51 meals: 21 breakfasts (days 3-24) 14 lunches (days 8-21) 16 dinners (days 3 and 7-21)

Local tour manager days 1-7 & 21-23*
Plus...
International and regional flights as detailed†
Travel in destination by coach
Porterage

Excursions and visits
Guided city tours of Rio de Janeiro, Buenos Aires, Valparaiso & Viña del Mar, and Santiago
Tour of Iguazu Falls, including Devil's Throat
Wine tasting at William Cole vineyard
†Prices are based on return flights with Air France from London Heathrow via Paris. Supplements may apply from other airports
*Your local tour manager will leave as you join your cruise, where you'll have the ship's expert crew on hand.
Day 1 UK to Rio de Janeiro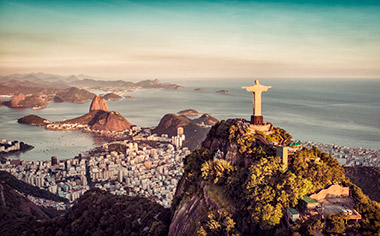 Your VIP door-to-door travel service collects you from home for your flights to Rio.
Day 2 Rio de Janeiro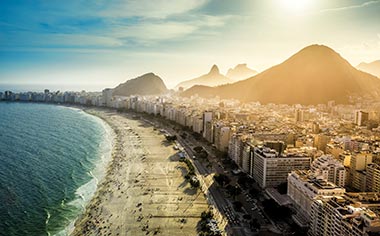 On arrival, we'll transfer to our hotel where an early check-in has been arranged.
The hotel is located right beside iconic Copacabana beach and your first day is free to explore at your own pace.
Day 3 Rio de Janeiro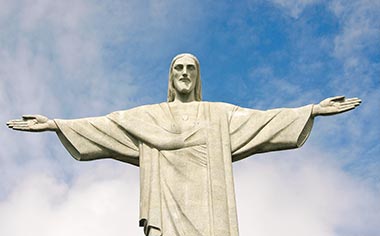 There's a sense of anticipation and excitement, as we wake up with sweeping views of Copacabana beach from the hotel this morning. The city is famed for its annual Carnival but it is colourful and completely captivating whatever time of year you visit.
We'll get to know the city on a guided tour. We'll wend our way up through the forests of Corcovado Mountain aboard a cogwheel train. At the top, Christ the Redeemer keeps watch over the city below. To stand beside such an iconic landmark evokes some powerful emotions in many.
Next, we ascend Sugarloaf Mountain in a glass cable car to enjoy the view of Christ the Redeemer from afar. Then we'll shimmy along the streets of the downtown area, where the city's samba soundtrack hums. We'll see the highlight landmarks and some of the city's finest architecture, like the Candelaria church and Carioca aqueduct. After all of that, you'll still have time to feel the sand between your toes and sip a zingy caipirinha at Copacabana.
Day 4 Rio de Janeiro to Iguazu Falls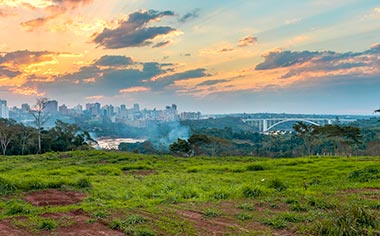 The morning is yours for any last discoveries in Rio before our afternoon flight to Iguazu Falls. The small, yet busy Brazilian city of Foz do Iguaçu is located at the confluence of the Iguazu and Parana Rivers.
Teetering on the Brazil and Argentina border, it makes for the perfect base from which to visit Iguazu Falls. On arrival we'll transfer to our hotel and the evening is yours to spend as you please.
Day 5 Iguazu Falls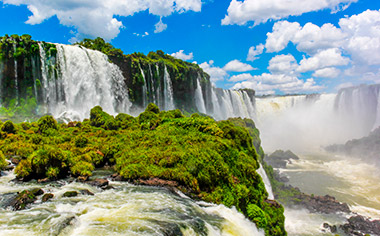 Iguazu means 'big water' but we can't help but think the Guarani name for this incredible natural phenomenon is a little understated. One of the planet's most spectacular sights, the mighty Iguazu Falls are astounding. The immense power of the falls and the crashing sound of cascading water, is something you'll hear long before you arrive.
We'll experience the Brazilian and Argentinean sides of the falls today. Visiting the Brazilian side first gives us the opportunity for a panoramic view of the fall's most famous section, Devil's Throat, which is a huge confluence of three massive falls.
We'll then cross over to the Argentinean side and take a small train through the rainforest. From here, our walk takes in spectacular views from above and alongside the falls. The site is made up of a chain of hundreds of waterfalls and seeing them in person is truly unforgettable.
This evening there's a chance to join an optional Brazilian feast with a medley of samba, tango and Paraguayan music.
Day 6 Iguazu Falls to Buenos Aires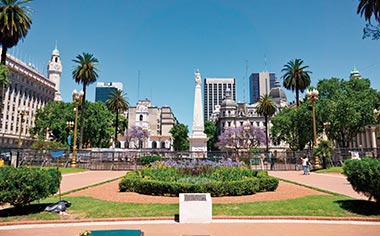 You'll have the morning at leisure at the hotel before we transfer to the airport for our flight to Buenos Aires. The 'Paris of the South', Buenos Aires is a city of simmering excitement and a tango heartbeat.
A glimmer of its European past is barely buried under its lively Latino present. Sweeping green spaces are interspersed with grand French and Italian-style architecture, colourful street art decorates traditional neighbourhoods. You'll be hooked on this city before you even realised it's happened.
This evening you'll have an option to join a tantalising tango show - a wishlist-worthy experience for anyone visiting Buenos Aires.
Day 7 Buenos Aires (overnight)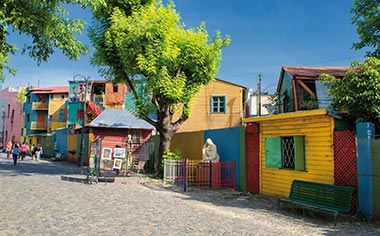 This morning we'll visit some of the city's highlights, including the leafy Plaza de Mayo lined with grand buildings such as the Government House and City Hall; you'll step inside the Metropolitan Cathedral to see its towering ceilings, striking stained glass and marble columns.
In La Boca, we'll see the district's famed array of colourful houses and learn about the Italian immigrant history. Finally, we'll visit the walled cemetery of Recoleta to view the elaborate mausoleums and resting places of Argentinean luminaries, including Eva Peron.
After the tour, we'll transfer to the pier to board our ship. We'll be docked in port tonight, so you'll have the evening to explore Buenos Aires further.
Buenos Aires
Argentina
South America
Day 8 Buenos Aires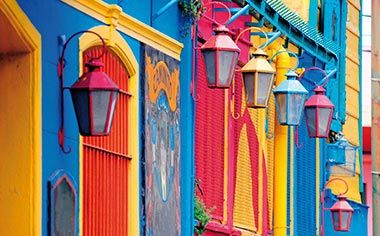 Another full day in this fascinating city before we set sail this evening.
Buenos Aires
Argentina
South America
Day 9 Montevideo, Uruguay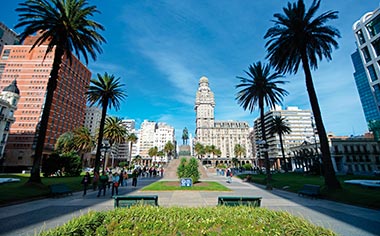 Uruguay's capital city has a vibrant and cosmopolitan atmosphere. Music, theatre and the arts are alive - and you'll find them in the elegant old theatres and little tango bars. The city's smaller size makes it more personable, with a distinctly 'local' feel.
The historic downtown district is a treasure with art deco and neo-classical buildings decorating the streets, while the southeast flaunts long stretches of beach, modern high-rises, and shopping centres.
Montevideo
Uruguay
South America
Day 10 - 11 At sea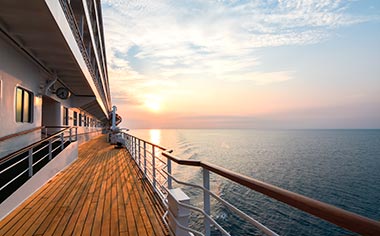 Take time to fully relax with endless sea views in every direction.
Perhaps opt for a massage at the ship's Greenhouse Spa & Salon, or you might like to continue learning about our destinations with an engaging lecture or live cooking demonstration.
The evening brings an abundance of entertainment options with live music, including the popular BB King's Blues Club.
Day 12 Port Stanley, Falkland Islands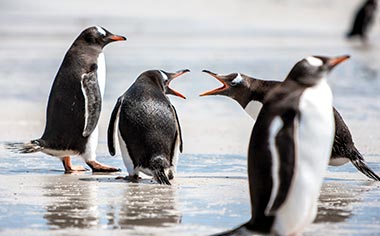 Stepping ashore in Stanley is a little bit surreal. Proud of its British Heritage, you'll see familiar red telephone boxes and post boxes, Victorian houses and old English pubs. You'll feel transported to an English village.
If you like penguins, then a visit to the penguin rookery at Bluff Cove Lagoon is a must. King and gentoo penguins - along with other bird species of the Falklands - rule the roost here in a privately owned wildlife haven. You'll stroll around the penguin colony, which features a scenic lagoon and white, sandy beach backdrop. It's home to 1,000 breeding pairs of gentoo penguins.
Stanley
Falkland Islands
South America
Day 13 Cruising the Strait of Magellan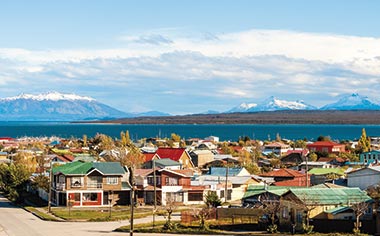 Before the Panama Canal, there was the Strait of Magellan. This cinematic channel links the Atlantic and Pacific Oceans as it cuts between the mainland tip of South America and Tierra del Fuego island. It was the passage of choice for transport until 1914 when the Panama Canal shortened the distance by thousands of miles.
Spend some time sitting on your balcony contemplating what those first explorers must have thought when sailing along this majestic stretch. We'll pass impressive glacial and mountain scenery, keeping eyes peeled for undiscovered colonies of Magellanic penguins, pods of humpback whales and schools of Commerson's and Peale's dolphins. This is a wishlist-worthy voyage for any adventurer.
Strait of Magellan
Argentina
South America
Day 14 Punta Arenas, Chile (Scenic Cruising)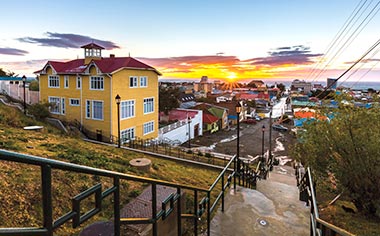 This windblown city near Chile's southernmost tip sits right on the Strait of Magellan. It's a gateway to the spectacular landscapes of Torres del Paine National Park, but it has plenty to offer, too. It's an urban sprawl decorated with colonial mansions. From penguin spotting on Isla Magdalena to visiting local farms or indulging in a typical Chilean surf-and-turf, there's plenty to keep you occupied here.
We'll then continue our voyage through some of the continent's most beautiful scenery. We'll sail the Cockburn Channel, which passes coastline rich in fjords and glaciers. The Pia Fjord is particularly beautiful as dozens of waterfalls cascade down the slopes into its warm waters. You may even witness huge chunks of ice calve off Pia Glacier and plummet into the sea.
Then, running through the Tierra del Fuego archipelago, the Beagle Channel is a scenic and wonderfully calm strait. You might spot some interesting wildlife as we pass Isla de los Lobos (Sea Lion Island) and Isla de los Pájaros (Bird Island).
Finally, Glacier Alley is the last stretch leading to Argentina's Ushuaia. The scenery here can only be described as otherworldly as each breathtaking glacier precedes the next, each flowing down from huge mountain ranges and peaks. You'll hear the blue ice cracking as it tumbles into the channel. Keep a keen eye and you might spot penguin rookeries, humpback whales and seals.
Punta Arenas
Magallanes and Antartica Chilena
Chilena
Chile
South America
Day 15 Ushuaiaz Argentina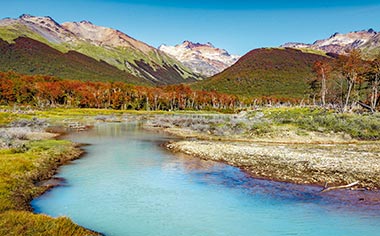 We have reached the end of the world - and it's better than you could have imagined. Positioned at the southernmost tip of Argentina, Ushuaia is cradled between the pristine Martial Mountains. It's surrounded by glittering glaciers, snow-capped mountains, dense forests, sparkling lakes and windswept plains spread across an archipelago of rugged islands. You'll feel transported to a land before time.
The town lends itself to its natural surroundings perfectly; there are no high rises or mega malls here. Its maze of streets are lined with low-slung buildings, all leading to its heart, the port.
Ushuaia
Tierra del Fuego
Argentina
South America
Day 16 Cruising Cape Horn, Chile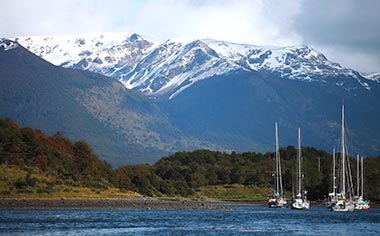 Today we'll sail one of the most notorious ocean passages in the world. For centuries, Cape Horn, where the Atlantic and Pacific oceans violently crash together, evoked dread in the heart of sailors.
Our journey today around the cape at the very bottom of the Tierra is shaped by capricious weather, as powerful winds and shallow water can produce waves that reach as high as 30 metres.
Cape Horn
Chile
South America
Day 17 Scenic Cruising Sarmiento Channel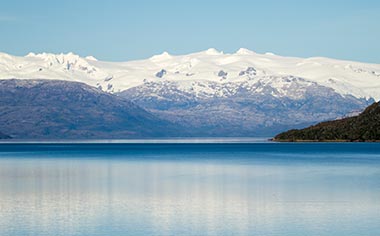 One of the main channels in Patagonia, the Sarmiento Channel runs in a north-south direction, starting at the Guía Narrows and finishing at the southern edge of Victoria Pass, where it joins the Smyth Channel. The Chilean mainland lies to the east, and the islands of Esperanza, Vancouver and Piazzi flank the channel to the west.
The ragged coastline is cut with inlets set among snow-covered mountain ranges and all kinds of marine animals, including Magellanic penguins, southern elephant seals, dolphins and orcas.
Sarmiento Channel
Chile
South America
Day 18 Cruising the Chilean Fjords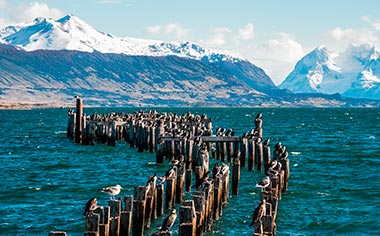 The west coast of Chile is sliced by dramatic inlets lined with rugged mountains and glacier-covered valleys. This spectacular stretch of coastline starts near Reloncavi Estuary and extends south to the very end of the continent at Tierra del Fuego - a distance of some 1,500 kilometres.
Our ship will navigate meandering paths along the many fjords and channels. The area is known for its desolate beauty and rewards those who have travelled this far with dramatic landscapes and unusual animal residents.
Chilean Fjords
Chile
South America
Day 19 Puerto Montt
The capital of Los Lagos is the perfect jumping off point for the country's glacial lakes, ominous volcanic landscapes and mountainous national parks. World-class photogenic landscapes aside, there's an interesting mix of cultures to explore here, too.
The port is also home to a 100-year-old German settlement as well as indigenous communities of Mapuche people. Perhaps take a stroll through pretty Puerto Varas, overlooking Lake Llanquihue, or opt for a taste of the local life in the nearby fishing village of Angelmó (try the catch of the day washed down with a traditional German white wine).
Puerto Montt
Los Lagos
Chile
South America
Day 20 At sea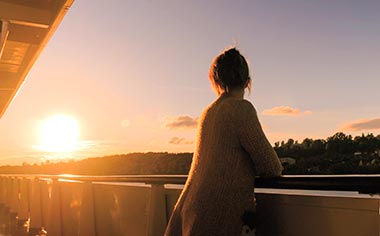 A final full day at sea to relax and enjoy all the ship's amenities.
Day 21 San Antonio to Valparaiso to Viña del Mar to Casablanca Valley to Santiago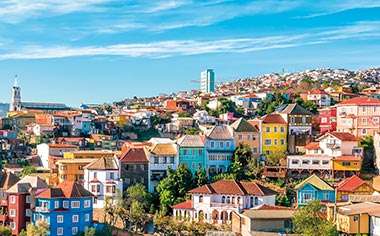 We disembark in San Antonio this morning and head to Valparaiso to spend some time getting to know the city on a guided tour, which also incorporates nearby Viña del Mar - the 'Garden City'.
Chile is synonymous with world-renowned fine wines and we couldn't travel all this way without stopping to learn more about the industry. Casablanca Valley is one of Chile's most famous wine-producing areas and the families here have specialised in cultivating a few small but defining wine businesses, like the world-famous Viña William Cole.
We'll learn about the history of this winery, enjoy a guided tour of the estate and finish with a tasting in the wine shop. We then continue to Santiago and check into our hotel.
Day 22 Santiago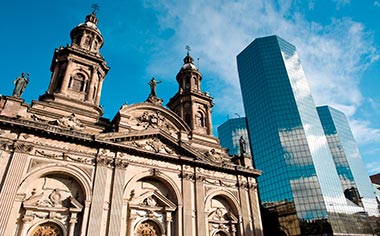 Energetic, sophisticated, and cosmopolitan - it's little wonder that almost half of Chile's population call leafy Santiago home. The streets are lined with grand architecture and the landscape is dotted with extensive green spaces.
We'll take in all the city's best bits on our guided tour this morning, including the colourful main avenue, Alameda, where the Chilean University and San Francisco Church are located; stroll through the central market at Plaza de Armas; then visit the National Museum of History. From San Cristobal Hill, you'll enjoy the best panoramic views of Santiago, backed by the Andes Mountains.
The rest of the afternoon is free for you to make your own discoveries in this world-class city.
Day 23 Santiago to UK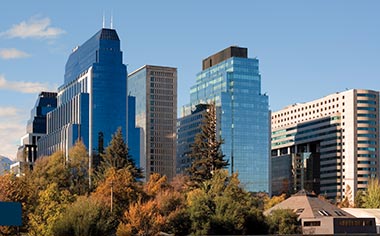 The morning is free for you to spend as you please before we transfer to the airport for the return flights home.
Day 24 UK
Upon arrival, your vehicle will be waiting for the journey home.
South American Discovery Cruise & Tour with Rio & Iguazu Falls
Argentina, Brazil, Uruguay, Falkland Islands and Chile