Bright lights of Las Vegas

San Francisco's Golden Gate Bridge

Escorted Tour Moderate
California and the Golden West for solo travellers
California and the Golden West for solo travellers
USA
New

Solo Travellers

VIP door to door
See the best of California on this sunshine Solos tour
Travelling in a loop around California (and nudging into neighbouring Nevada and Arizona), this solos-only departure of our popular USA tour includes great cities like Los Angeles, Las Vegas and San Francisco, drives along Route 66 and the Pacific coastal road, and the spectacular scenery of Yosemite National Park.
You'll also spend two nights in Flagstaff, gateway to the awe-inspiring Grand Canyon, which you'll explore on an included excursion (or why not treat yourself to an optional flight) with your fellow solo guests.
Including...

VIP door-to-door travel service

Included travel insurance

14 nights in hotels and 1 in flight

Tour manager
Plus...
International flights†
Travel in destination by coach (with Wi-Fi)
Porterage

Excursions and visits
Tours of Hollywood, San Diego and San Francisco (including Golden Gate Bridge)
Visits to the artist colony of Sedona; Hoover Dam; and the Old Silver Mining Town of Calico
Park entrance fees for Grand Canyon and Yosemite national parks
Williams Depot and shoot-out re-enactment
17 Mile Drive
Stops at Carmel and Monterey
Santa Barbara
†Prices are based on return flights with Virgin Atlantic from London Heathrow. Supplements may apply from other airports
Sonesta Redondo Beach and Marina

Sheraton Hotel and Marina

Hilton Garden Inn Scottsdale

Little America Hotel Flagstaff

Bally's Las Vegas Hotel

Wyndham Visalia

DoubleTree Modesto

Parc 55

Cambria Pines Lodge

Sonesta Redondo Beach and Marina

Flight
Day 1 UK to Los Angeles to Redondo Beach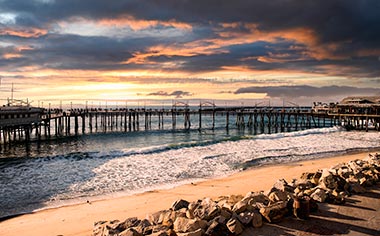 Our VIP door-to-door travel service collects you from home for your flight to Los Angeles. We'll stay the night in Redondo Beach.
Day 2 - 3 Los Angeles to San Diego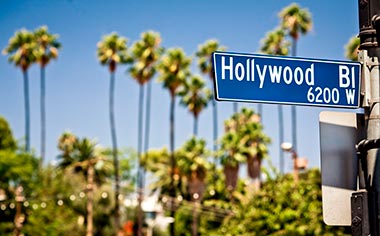 This morning, enjoy a brief tour of three icons of popular culture - Hollywood, Sunset Boulevard and TCL Chinese Theatre, where the handprints of the stars are famously immortalised. We'll then continue to San Diego.
On the morning of day 3, a tour introduces this attractive harbour city, leaving the afternoon at leisure to make your own explorations and sample San Diego's superb restaurants.
You stay at Sheraton Hotel and Marina (4*) or Hilton San Diego Harbor Island Hotel (4*).
Day 4 Scottsdale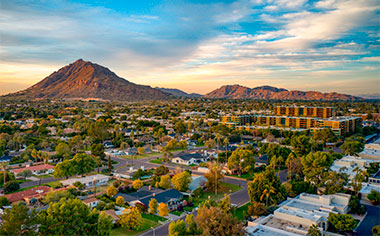 We travel from California to Arizona, arriving in Scottsdale in the afternoon.
Day 5 Sedona to Oak Creek Canyon to Flagstaff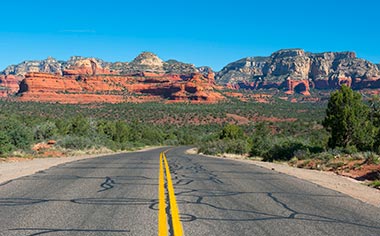 We travel to the charming artist colony of Sedona and breathtaking Oak Creek Canyon en route to Flagstaff.
We spend two nights here, allowing us plenty of time to explore the area and experience the Grand Canyon.
Day 6 Grand Canyon
The Grand Canyon is one of the most awe-inspiring natural sights the world has to offer.
This geological wonder is 277 miles long, 18 miles wide and one mile deep; a huge expanse of richly coloured rock enclosing the silvery Colorado River far below.
We visit today - perhaps enjoy a pre-bookable optional flight for even more stunning views of the canyon.
Day 7 - 8 Williams to Las Vegas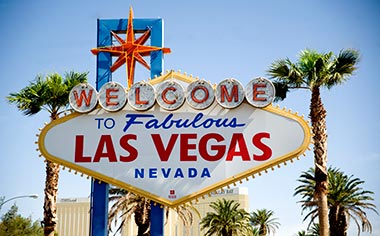 Following a brief visit to the historic train depot at Williams, where local cowboys stage a Wild West shootout, we proceed to Las Vegas, America's entertainment capital.
You don't need to be a high roller or slots wizard to enjoy this shimmering neon mirage in the heart of the forbidding Mojave Desert - there are shows that dazzle, from the famous Cirque du Soleil to the regular open-air spectacles, as each iconic hotel along the famous Strip tries to outdo the next in the extravagance of their performances.
Included for those who wish, is a short morning excursion to the Hoover Dam - a spectacular engineering achievement built in the 1930s. This huge dam is an awesome sight and its construction created Lake Mead, which is 100 miles long and 500 feet deep.
You stay at Bally's Las Vegas Hotel (4*) or Harrah's Las Vegas (4*)
Day 9 Calico to Visalia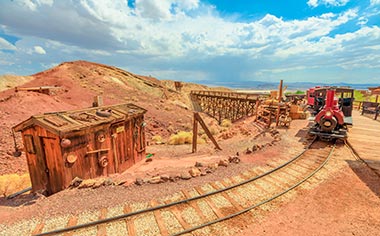 We cross the Mojave Desert en route to Calico, a once-thriving centre of silver mining, now an enjoyable reminder of the days when cowboys roamed its streets.
Visalia is our destination for the evening.
Day 10 Yosemite National Park to Modesto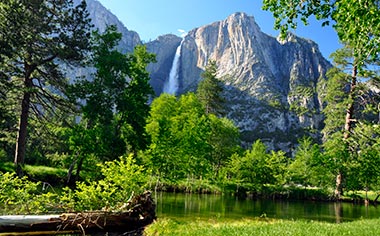 One of the world's great natural sanctuaries is Yosemite National Park, in the Sierra Nevada. With its craggy mountains, postcard-perfect lakes and verdant forests of dogwood, sugar pine and white fir, Yosemite is endlessly photogenic - which is why it so appealed to the great photographer and environmentalist Ansel Adams.
Adams visited Yosemite for more than 50 consecutive years, recording luminously beautiful photographs of the park's dramatic landscapes, many of which have become instantly recognisable icons of the American wilderness.
After a memorable day, we continue west to Modesto.
Day 11 - 12 San Francisco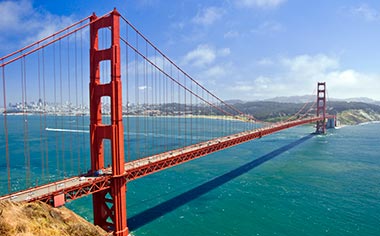 A sightseeing tour presents an orientation of this most cosmopolitan, liberal and attractive American city, including the Golden Gate Bridge, Union Square and vibrant Chinatown.
The following day at leisure offers opportunities for relaxation or further exploration - perhaps independently pre-book a boat trip to notorious Alcatraz Island, or take a walk around the eclectic district of Haight-Ashbury, so beloved of 'hippies', artists, writers and musicians.
You stay at Parc 55 (4*) or Hilton San Francisco Union Square (4*).
Day 13 Monterey to 17 Mile Drive to Carmel to Big Sur to Cambria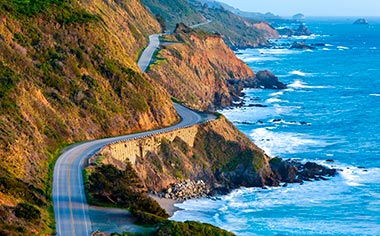 We travel south to Monterey, the old Spanish and Mexican capital of upper California, then proceed along the famous 17 Mile Drive, one of the loveliest coastal routes in the world.
After lunch in the delightful town of Carmel, we continue south along the dramatic Big Sur coastline to Cambria.
Day 14 Santa Barbara to Redondo Beach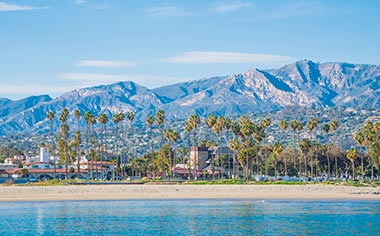 Santa Barbara, a town favoured by artists, with an appealing harbour promenade and palm-fringed streets, makes a memorable lunch stop en route from Cambria to the California coast Redondo Beach.
Day 15 Los Angeles to UK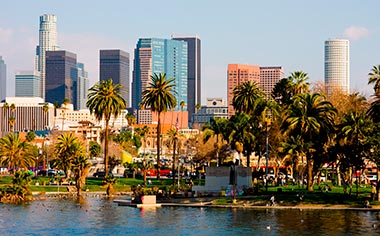 We travel on to the airport for your return flight to the UK.
Day 16 UK
Upon arrival, your vehicle will be waiting for the journey home.
California and the Golden West for solo travellers
USA