Classic Tour Standard
from
£1,299
per person
6 nights
Including optional travel insurance or a price reduction of £20 if not required
Sweden: Palaces, Castles and Canals
Sweden
Explore southern Sweden on board a selection of little boats...
On this tour, the journeys are just as important as the destinations. Your first three nights are spent in Stockholm. During which we invite you to take a tour of the Vasa Museum and embark on a cruise across to Drottningholm Palace, a 17th-century royal castle located on the visually-impressive Stockholm Archipelago. You may also like to take an optional excursion to the charming fishing community of Vaxholm - often referred to as the capital of the archipelago.
Your journey down to Linkoping - where you will spend the remaining three nights - includes a voyage on board the paddle steamer SS Mariefred, commissioned in 1903 and continuing to delight passengers today. Explore the Gota Canal on board two distinctly different little boats - each with their own curious history to tell - and when on dry land, you can enjoy a visit to Vadstena Castle, a splendid example of early Renaissance architecture. Combining picturesque locations with delightful modes of water transport, you will be hard-pressed to find a better way to explore the waterways of southern Sweden.
Including...

Included travel insurance

6 nights in hotels

9 meals: 7 breakfasts (B) and 2 dinners (D)

Saga tour manager
Plus all this...
Return flights and transfers
Welcome drink reception
Porterage at both hotels

Excursions and visits
Visit Stockholm's Vasa Museum and City Hall
Cruise from Stockholm to Mariefed on S/S Mariefred and visit to Gripsholm Castle
Visit to Vadstena Castle followed by cruise to Borensberg & Berg on M/S Wasa Lejon
Cruise from Karlsborg to Toreboda on M/S Sandon

Use of audio headsets on guided tours
Clarion Hotel Amaranten

Quality Ekoxen Hotel
Day 1 UK to Stockholm
Fly to Stockholm Airport and transfer to the locally rated 4-star Clarion Hotel Amaranten (3Q+) where you will stay for the next three nights. Enjoy a drinks reception and a welcome dinner. D
Day 2 Stockholm
Your day begins with a city tour of Stockholm, to learn a little about its history - from the days of the prosperous Swedish Empire to those of 19th-century industrial boom - and see several of its notable landmarks. During your tour, you will visit the Vasa Museum.
In 1625 building work began on 'Vasa'. It was to be the most powerful warship in the Baltic, however, upon launch in 1628, it travelled just 1,300 metres before sinking to the bottom of the shallow Baltic Sea. It was top-heavy. Visiting the museum, you will view the impressively preserved shipwreck, and several modern exhibitions telling its tale.
Continue the tour to Stockholm City Hall. Built between 1911 and 1923 using approximately eight million bricks, it is one of the city's most famous buildings. Stockholm City Hall is also home to the stunning Golden Hall, a highlight of many tours of the city. Wander through the grand ceremonial halls, flanked by unique pieces of art, and perhaps capture the lakeside beauty on your camera.
In the afternoon, enjoy a cruise to Drottningholm Palace - on UNESCO's World Heritage list for good reason! It is a 17th-century royal castle heavily influenced by sumptuous French design. Revel in the extravagance of the reception halls before taking a stroll through the palace gardens, featuring a charming Chinese pavilion. B
Day 3 Stockholm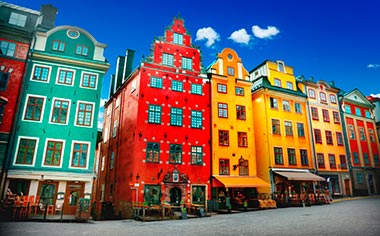 Enjoy a day at leisure or take a an optional cruise to Vaxholm, the unofficial capital of the Swedish archipelago. B
Day 4 Stockholm-Linkoping
Following breakfast, it's all aboard the historic S/S Mariefred!
She was commissioned in 1903 and this paddle steamer has been puffing along the route between Stockholm and Mariefred ever since. After an enjoyable journey, taking in the slowly passing scenery, you will disembark in Mariefred, a small picturesque town overlooked by the domed towers of Gripsholm Castle. Enjoy a visit to the castle, which has seen 400 years of history, before continuing to Linkoping. It is a city famous for its impressive medieval cathedral and is where you will stay for the next three nights.
Your accommodation is the locally rated three-star Quality Ekoxen Hotel (3Q), located near Linkoping's city centre. B, D
Day 5 Linkoping
This morning, visit Vadstena Castle, a splendid example of early Renaissance architecture.
Constructed in 1545 with gun turrets, moats and ramparts, the fortification was at the forefront of defensive technology. Its current appearance is owed to Johan III's audacious 75-year plan to turn it into a palace. Spend some time exploring the castle, filled with 16th and 17th-century furniture and portraits. To learn about the history of what was once a formidable fortification, visit the castle museum located on the first floor.
In the afternoon you are invited to cruise along the Gota Canal between Berg and Borensberg aboard M/S Wasa Lejon. B
Day 6 Linkoping
Your 'little ship' for today is M/S Sandon. She was built in 1910 and will today transport you from Karlsborg - the fortress of which is impressive to say the least - to Toreboda. The Gota Canal was a huge construction project completed between 1810 and 1832. Despite quickly being made redundant by the speed of railways, the canal system continues to impress those who pass along it today. B
Day 7 Linkoping-Stockholm-UK
Travel to Stockholm airport for your flight back to the UK. B
Sweden: Palaces, Castles and Canals
Sweden