Explore historic Guimãraes

Perhaps visit Oporto's port wine cellars

Stay in four magnificently-restored Pousadas
Classic Tour Standard
Pousadas of Portugal
Portugal
from
£1,399
per person
2 passengers
10 nights
Including optional travel insurance or a price reduction of £54 if not required
Half board
Find the spirit of Portugal's past
What better way to immerse yourself in Portugal's past than by staying in four historically fascinating Pousadas? From what was once a formidable castle to a former medieval hospital, your accommodation will tell each area's story better than any guide! Take a city tour of hilly Lisbon, traversed by wonderfully vintage trams, and enjoy a visit to the Ducal Palace of Guimarães, long associated with the forging of Portugal's identity. Consider taking an optional excursion to see Oporto's port cellars – followed by a tasting or two – or from Alcácer do Sol you may choose to take a tour of Evora, wrapped up within 14th-century walls.
Including...
Included travel insurance
10 nights in Pousadas
20 meals: 10 breakfasts (B) and 10 dinners (D)
Saga tour manager
Plus all this...
Return flights and transfers
Welcome drink reception
Porterage at all Pousadas
Excursions and visits
Tour of Ducal Palace
Tour of Oporto
Serra da Estrela Natural Park
Coimbra University
Batalha Monastery and Alcobaça Monastery
Morning tour of Lisbon
Audio headsets will be available on selected guided tours.
Pousada de Guimarães

Pousada Serra da Estrela

Pousada de Ourém

Pousada de Alcácer do Sal
Day 1 UK-Guimarães
Fly to Guimarães in northern Portugal for a three-night stay at the locally rated four-star Pousada de Guimarães (4Q).
The Pousada de Guimarães is a beautifully converted 12th-century Augustine monastery. It enjoys extensive views of the city from its hillside location and is surrounded by nine hectares of gardens. Relax in the comfortable pillared courtyard or take a dip in the outdoor swimming pool. You will find this 'Pousada' located three kilometres from Guimarães. D
Day 2 Guimarães
Embark on a morning tour of the city. Explore the medieval centre's warren of narrow lanes, and learn about the history of Guimarães, long associated with the 12th-century emergence of Portuguese national identity. During your city tour, you will visit the Ducal Palace.
In the afternoon, consider joining the optional tour to Ponte de Lima for afternoon tea. B, D
Day 3 Guimarães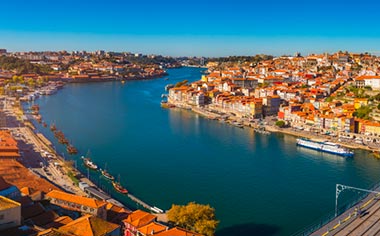 Begin your day with a tour of Porto, accompanied by a local guide. What better way to spend your afternoon than on an optional excursion to a port wine cellar for a tasting discovery.
Alternatively, you can explore independently. B , D
Day 4 Guimarães-Serra da Estrela
Leave Guimarães behind and travel south to Serra da Estrela via Vila Real and Viseu.
Stay two nights at Pousada Serra da Estrela (4Q). A pristine paradise located within the Serra da Estrela National Park, this Pousada enjoys breathtaking views across to continental Portugal's highest mountains. It is perfectly placed to explore the natural park which you are invited to do on day five. B, D
Day 5 Serra da Estrela
Set off on a full day tour of the Serra da Estrela National park. Measuring more than 101 thousand hectares, the park is the largest protected area in Portugal and is punctuated by rocky outcrops and boulder-filled landscapes. Your tour includes a visit to a local cheese producer for a tasting. B, D
Day 6 Serra da Estrela-Ourém
Drive from Serra da Estrela to Ourém via Sei and Coimbra. Featuring dark cobbled lanes and a monumental cathedral, Coimbra is also home to the country's oldest and most prestigious university. Arrive in Ourém where you stay two nights at Pousada de Ourém (4Q).
In 1136, King Afonso Henriques took 'Aurem' Castle from the Moors and built his own impressive fortification - which can be seen today and overlooks a collection of whitewashed streets, punctuated by a collegial church and a hospital. Different from its modern-day definition, this medieval hospital offered a place of hospitality for those passing through and has been tastefully converted into a charming hillside retreat. The hotel features a pool and enjoys impressive views over the surrounding area. B, D
Day 7 Ourém
Today enjoy an included excursion to two of Iberia's finest monasteries - Alcobaca and Batalha.
The Monastery of Alcobaca is praised as a masterpiece of Cistercian Gothic art. Its Baroque facade welcomes you through a forest of 12th-century archways and into a religious house in which 999 monks held mass in non-stop shifts. Despite its devout purpose, travellers passing through during the 18th century were shocked to see the decadence that the monks enjoyed; the grand kitchen was described as 'the most distinguished temple of gluttony in all of Europe,' and featured a water channel that diverted wild fish right into the kitchen!
The Monastery of Batalha was built in the 14th century to commemorate the Battle of Aljbarrota, fought between Spain and Portugal. Capture its glorious limestone exterior on your camera before an opportunity to explore the main church - leaving the cloisters for a future visit. Among its architectural highlights are flying buttresses and balustrades that demonstrate its specialness. B, D
Day 8 Ourem-Alcácer do Sol
Your journey to Alcacer do Sol is via the town of Obidos, the labyrinthine medieval streets of which are surrounded by an impressive crenelated wall. During your drive, you will also visit Cascais.
Arrive at Alácer do Sol where you three nights at Pousada de Alcácer do Sal (4Q). Located at the top of a hill, from this Pousada you can enjoy sweeping views across to the waters of Rio Sado. As a defensive position, the castle once defied invaders and displayed impressive strength. Today it invites you to take a dip in its pool or simply enjoy the novelty of staying in a former fortress. Your accommodation for the final three nights is suitably located to enjoy Alcácer do Sal and explore the surrounding areas. B, D
Day 9 Lisbon
Just an hour's drive from Alcácer do Sol is Lisbon, the city that legend suggests was founded by Ulysses. Enjoy an included morning city tour. Spend the afternoon at leisure. B, D
Day 10 Alcácer do Sol
Your final full day is spent at leisure, during which you can take the optional excursion to Evora. B, D
Day 11 Alcacer do Sol-UK
Transfer from your hotel to Lisbon airport for your flight back to the UK. B