Jewels of the Aegean
Greece and her islands
Local flights

All Inclusive
Discover Rhodes, Leros and UNESCO-listed Symi
Start and end your holiday on the largest of the Dodecanese islands – Rhodes – one time home of the Colossus of Rhodes, one of the Seven Wonders of the ancient world. In between you'll sail the sparkling Aegean by catamaran ferry to the small and unspoilt islands of Leros and Symi to relax, explore and soak up some sun.
Including...

Included travel insurance

14 nights in hotels

41 meals: 14 breakfasts (B), 13 lunches (L) and 14 dinners (D)

Free bar at each hotel open from 10 to 12 hours a day

Saga tour manager
Plus...
Return flights and transfers
Welcome drink reception
Porterage at all hotels and on all ferry and catamaran journeys

Included excursions and visits
Rhodes town visit
Leros island tour
Cruise around Symi island with BBQ lunch
Rhodes panoramic tour
Scenic inter-island crossings

Use of audio headsets on selected guided tours
Discover quintessential Greece
Take the chance to visit Lindos, the site of the major shrine on Rhodes in classical times. It has everything one might expect from a Greek island town: a stunning setting, picturesque white houses clustered around a bay, sun-bleached ruins and a crystal-clear sea. While here, perhaps climb up to the acropolis, perched on a cliff 300 metres above two small bays (entrance not included). Many movies have been filmed in this dramatic setting, including scenes from The Guns of Navarone. Later, make a brief stop in the traditional village of Archangelos, which is renowned for its production of ceramics.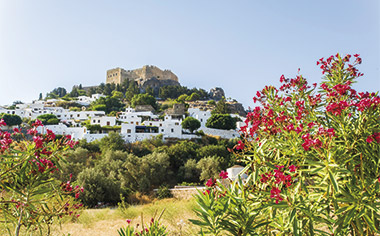 Jewels of the Aegean
Greece and her islands