Tours Pace 2
Pearls of the Aegean
Greece and her Islands
Local flights

Half board plus
Discover Rhodes, Kos and Patmos
Start and end your holiday on the largest of the Dodecanese islands – Rhodes – one time home of the Colossus of Rhodes, one of the Seven Wonders of the ancient world. In between you'll sail the sparkling Aegean by catamaran to the unspoilt islands of Kos and Patmos, to relax, explore and soak up some sun.
Including...
14 nights in hotels
33 meals: 14 breakfasts, 5 lunches and 14 dinners
Free bar at Sun Beach Hotel, Rhodes open 12 hours a day, from 11am-11pm
Return flights and transfers
Saga tour manager
Welcome drink reception
Porterage at all hotels and on all ferry and catamaran journeys
Excursions and visits
Rhodes town tour
Kos Town tour
Patmos island tour
Rhodes panoramic tour
Scenic inter-island crossings
Day 1 UK-Rhodes
Fly to the island of Rhodes and stay four nights at the locally rated 4-star Sun Beach Resort with a superb location close to the beach of Ialyssos, just eight kilometres from Rhodes Town. D
Day 2 Rhodes Town
Rhodes Town was founded in 408 BC and has a fascinating history, which you can discover on an included excursion today. Said to be the oldest inhabited medieval town in Europe, many of the historic buildings in the old town were built in the 14th and 15th centuries, whilst the new town features much Italianate architecture. You'll see the mighty walls and grand gates which encircle the town, and stroll along the long, cobbled 'Street of the Knights' where, in the 16th century, knights and visiting dignitaries could find a home-from-home and speak their native language in the Inns of the Tongues. B, L, D
Day 3 Rhodes
An optional excursion heads along the coast to the picturesque ancient village of Lindos. B, L, D
Day 4 Rhodes
An optional trip ventures into the heart of Rhodes to reveal traditional village life. B, L, D
Day 5 Rhodes-Kos
After breakfast, check out of your hotel and transfer to the waterfront where you will begin your voyage by catamaran across the Aegean Sea.
fter a relaxing journey of around 2.5 hours you will reach the unspoilt island of Kos, where you spend the next four nights at the locally rated 4-star Kos Hotel Junior Suites. Facilities include a restaurant, bar, swimming pool and gym. Enjoy the afternoon at leisure. B, D
Day 6 Kos Town
A half-day included tour highlights some of the islands's most historic sights. See the ancient plane tree where Hippocrates is thought to have taught and wander around the 14th-century fortress of Neratzia which was built by the Knights of St John. Head along palm-lined streets to see traditional wooden boats bobbing in the harbour, see mosaics in the town museum and visit Casa Romana to see what life was like under Empirical rule. Stroll down narrow streets through the old town to reach Eleftheria Square, surrounded by Roman architecture including the Agora (market) and Archaeological Museum. B, D
Day 7 Island of Kos
Spend the day at leisure or alternatively get to know your surroundings on an optional full day tour of the island, known for its white sandy beaches, crystal clear water, picturesque mountain villages and, of course, its place in history. B, D
Day 8 Kos
Look forward to another day at leisure or alternatively join an optional excursion visiting the fascinating volcanic island of Nisyros. B, D
Day 9 Kos-Patmos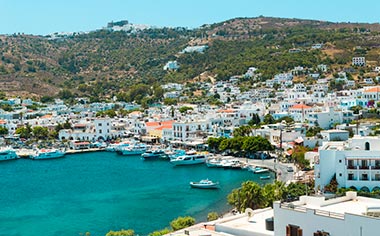 Depart your hotel and bid adio to Kos as you board a catamaran for another scenic voyage to the remote and peaceful island of Patmos – a journey of approximately 2.5 hours.
On arrival on the island, adorned with white-washed villages and rolling green hills, transfer to the locally-rated 3-star Skala Hotel where you will stay for three nights on a bed-and-breakfast basis but with dinners included at a local taverna every evening. Your hotel is just steps from the beach and also boasts a large swimming pool, bar and pool bar. B, D
Day 10 Patmos
Today you can look forward to an included tour of the beautiful island, which lies at the northern end of the Dodecanese island chain and which is renowned for its religious tradition, attracting crowds of Christian pilgrims.
The most iconic monument on the island is the monastery of the Knights of St John which dates from 1088. Built from local stone, the hill-top monastery dominates the landscape and is considered an important place of worship. Your guided tour also includes a stop at the Cave of Revelation where St John is said to have written the Book of Revelation, the final book of the New Testament, after being banished by Roman Emperor Domitianos.
Continue to Ostria where you can enjoy lunch at your own expense, perhaps try the local seafood. Afterwards enjoy a coach ride around the coast to see the other side of the island before returning to Skala, the capital, and your hotel. B, D
Day 11 Patmos
Spend the day at leisure, perhaps making the most of your hotel's facilities or taking the short stroll to the harbour where you can enjoy lunch at your own expense or watch the world go by over a drink. B, D
Day 12 Patmos-Rhodes
After breakfast and a morning at leisure, check out of your hotel and prepare to spend the afternoon sailing back to Rhodes by catamaran, a journey of approximately five hours. Spend the final three nights of your holiday back at the locally rated 4-star Sun Beach Resort. B, D
Day 13 Rhodes panoramic tour
Visit Mandraki Harbour during an included scenic tour of the island today. When the Italians occupied the island from 1913-43 they built an elaborate spa in Kalithea, an area known for its thermal, therapeutic springs, along with various other Belle Epoch architecture. From here you'll travel through scenery that may look familiar, as several movies have been filmed in this area, including scenes from the film 'The Guns of Navarone'. On the cliffs above the town is the ancient acropolis of the city of Rhodes – now a park – where you will have the chance to explore ruins from the theatre, stadium and Temple of Apollo. B, L, D
Day 14 Rhodes
Today you can explore the medieval Old Town independently or perhaps join an optional excursion to Butterfly Valley and Filérimos. A farewell dinner is included this evening. B, L, D
Day 15 Rhodes-UK
Travel to the airport for your return flight to the UK. B