Classic Tour Relaxed
from
£2,079
per person
14 nights
Including optional travel insurance or a price reduction of £40 if not required
Jewels of Kefalonia and Zakynthos
Greece
All Inclusive
Caves, coves and Greek traditions await
Uncover the timeless traditions of Greece with stays on the Ionian islands of Kefalonia and Zakynthos where you'll experience Greek hospitality, taste delicious local food and soak up the sun on celebrated beaches.
This slow-paced, all inclusive tour offers the perfect blend of relaxation and exploration, with excursions including a visit to the home of Odysseus, a boat trip to Smugglers Cove and panoramic tours of both islands. The highlight of your trip is sure to be a visit to one of the country's most iconic attractions, the birthplace the Olympic Games, ancient Olympia.
Including...

Included travel insurance

14 nights in hotels

41 meals: 14 breakfasts (B), 13 lunches (L) and 14 dinners (D)

Free bar 11 hours a day

Saga tour manager
Plus...
Return flights and transfers
All transfers and ferry tickets
Welcome drink reception
Porterage of luggage at hotels.

Included excursions
Boat trip to Shipwreck Beach
Island tour of Zakynthos
Day trip to ancient Olympia
Panoramic tour of Kefalonia
Scenic boat trip to Ithaka

Use of audio headsets on guided tours.
Ancient Olympia
During your stay on the mainland you can look forward to an included full-day visit to Olympia, birthplace of the Olympic games and site of one of the Seven Wonders of the Ancient World.
This is where the Olympic flame is lit every four years and where the torch relay started for the 2012 London Olympics. Uncover 3,000 years of history, and – should you be feeling energetic – take the chance to run a 200-metre race in the stadium itself!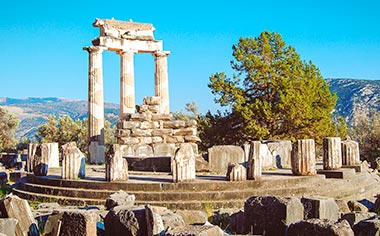 Jewels of Kefalonia and Zakynthos
Greece