Bridgetown Harbour, Barbados

Cruise and Tour Leisurely
from
£3,399
per person
17 nights
Including optional travel insurance or a price reduction of £120 if not required
Miami, Key West and Treasured Islands of the Caribbean Cruise & Tour
USA and Caribbean
New

VIP door to door
All the stars of the Sunshine State and a blissful Caribbean cruise
Spend five days on a southern Florida tour from Miami's curving 1930s art deco delights to Key West by way of the amazing Overseas Highway and the wetland wilderness of Everglades National Park.
Then slow down to island pace as you step aboard Holland America Line's Rotterdam to cruise the Caribbean. Visit highlights such as Barbados, St Kitts and St Lucia on a Caribbean cruise as well as Half Moon Cay; Holland America Line's private island in The Bahamas.
Including...

VIP door-to-door travel service

Included travel insurance

5 nights in hotels, 11 nights cruise on Rotterdam and 1 in flight

32 meals: 11 breakfasts (days 7-17) 10 lunches (days 7-16) 11 dinners (days 6-16)

Tour manager
Plus...
International flights†
Travel in destination by coach
Porterage

Excursions and visits
Guided city tour of Miami, including South Beach and Art Deco District
Tour of Key West on the historic conch train
Visit The Hemingway Home and Museum
Everglades airboat ride
†Prices are based on return flights with Virgin Atlantic from London Heathrow. Supplements may apply from other airports
Day 1 UK to Miami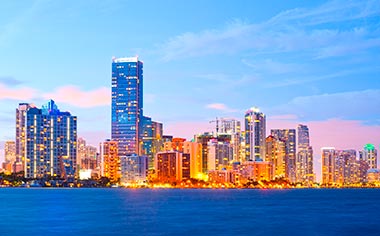 Our VIP door-to-door travel service collects you from home for your flight to Miami.
On arrival, we transfer to our hotel.
Day 2 Miami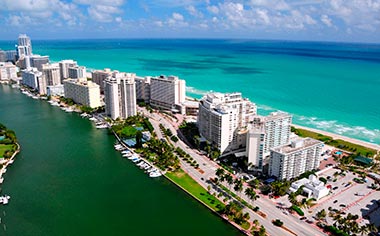 Sprawling white sands lapped by clear waters, curving art deco architecture and the vibrant soul of Little Havana. The city is all these things and more but today you get to see it and feel it for yourself. Welcome to Miami.
This morning we'll head out on a guided tour before spending the afternoon as you please. Perhaps bite into freshly baked arepas on Lincoln Road or take in Wynwood's eye-popping murals. If you want to put up your feet, there's no better place than Miami Beach for people watching and boundless sea views.
Day 3 Key West
Palm-lined streets with elegant gingerbread mansions and tin-roofed conch houses. Key West is a rum-soaked paradise with a vibrant Caribbean charm.
It's a tropical oasis - a seven-square-mile island dropped in impossibly blue waters. But it's also laden with history and as you spend the next couple of days sinking your toes into the sand, you'll begin to understand why Hemingway never left.
Day 4 Key West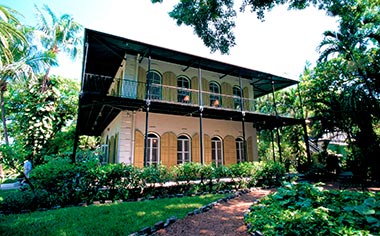 Today we take the conch train, which follows a route around the island. You'll see ornate Victorian mansions, stop by where Ernest Hemingway would socialise, and explore Old Town Key West.
You'll learn about the Conch Republic's history and residents, both past and present. We'll also visit Hemingway's 1930s home, located in the very heart of Old Town Key West, where the Nobel Prize winner wrote for more than 10 years.
The rest of the day is yours to spend as you please. Perhaps do as the locals do and enjoy the dramatic sunset with a rum punch.
Day 5 Everglades National Park to Fort Lauderdale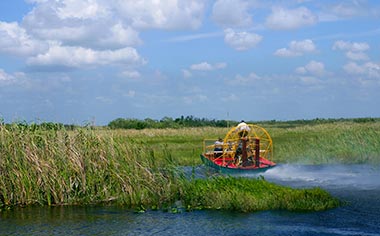 In a state renowned for pristine palm-lined beaches, the Everglades offers an entirely different experience. It's the third-largest National Park in the USA, but there is no wilderness like it anywhere else in the country. It's a vast subtropical area, where cypress trees tower overhead and the toothy grins of the resident reptiles peer up from below the water's surface.
This afternoon, we enjoy an airboat ride to explore the area to its fullest, before continuing to Fort Lauderdale Beach.
Day 6 Fort Lauderdale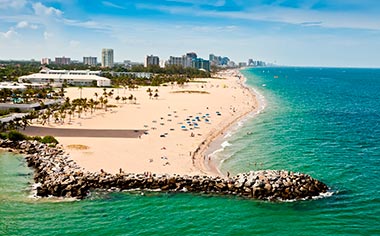 Beautiful beaches, a network of Venice-like waterways and gleaming yachts bobbing in the marina. It's little wonder most people don't stray too far from the coast when they visit Fort Lauderdale.
It's known as Miami's northern, laid-back sister city and with a leisurely morning to spend as you please, we hope you'll feel the same way. Perhaps sit back in a deck chair on the beach or get back to nature in the peaceful and green central park.
This afternoon we head to the port where we'll board our ship. You'll have time to settle into your cabin before we set sail this evening.
Fort Lauderdale
Florida
USA
North America
Day 7 - 8 At sea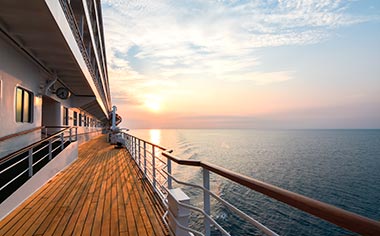 A leisurely day at sea to enjoy the delights of the ship. Perhaps opt for a treatment at the Greenhouse Spa & Salon or sit on deck taking in the views.
Day 9 Philipsburg, St Maarten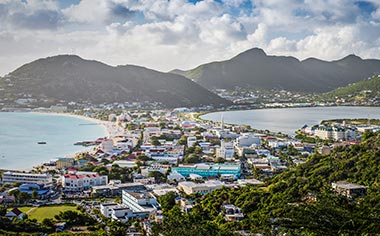 This Leeward island has been famously bisected into French and Dutch territories since 1648 and, as such, is referred to as both Saint Martin and Sint Maartin. Each side is as beautiful as the other and in their respective capitals - Marigot and Philipsburg - there are ancient stone forts and candy-coloured buildings lining romantic winding streets.
In Philipsburg, you'll find some excellent art galleries, lively discos and neon-lit casinos, while on the French side, you'll find streetside cafes serving café au lait and pain au chocolat and al fresco eaters clinking glasses of rosé and feasting on savoury crepes. On both sides the beaches are beautiful and the water warm. You might like to join an island tour to experience it all or take to the water on a catamaran cruise.
Phillipsburg
Saint Maarten
Caribbean
Day 10 Castries, Saint Lucia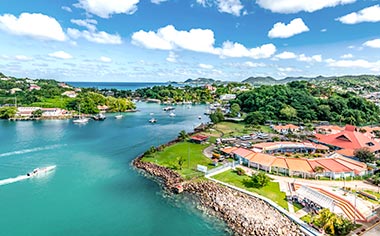 Stunning Piton peaks, lush rainforest, and perfectly turquoise water. Saint Lucia is an absolute gem in the Caribbean. The island combines true paradise with the awesome power of Mother Nature.
On this cruise to St Lucia, you could visit the only drive-in volcano in the world, catch a glimpse of flitting hummingbirds and impressive buttress root systems on an open-air gondola through the rainforest, or feast on authentic island food.
This afternoon relax on board as our ship makes a scenic journey to Soufriere Bay.
St Lucia
Caribbean
Castries
Day 11 Bridgetown, Barbados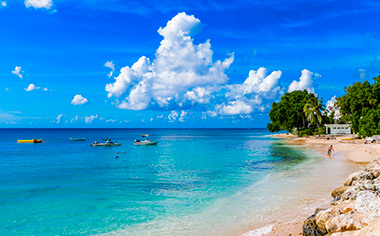 Centred around a waterway called the Careenage and its charming Chamberlain Bridge, the historic centre of Bridgetown was granted UNESCO World Heritage status in 2011 for its wealth of colonial architecture dating back centuries. Bajans consider their island the most British of the Caribbean: Queen Elizabeth II is still head of state and you might recognise a few items in the local shops from home.
The east of the island is rugged and strikingly beautiful. You might see hawksbill, green or leatherback turtles gliding through the water. The 'Platinum Coast' is the west of the island and home to the island's expansive beaches and biggest mansions - but the historic sugar plantations and lush gardens might lure you from the beach for a few hours.
Bridgetown
Barbados
Caribbean
Day 12 Fort-de-France, Martinique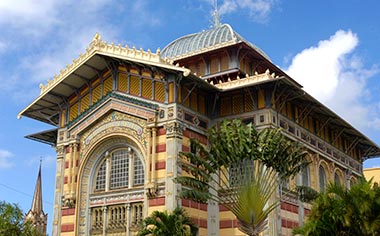 From pristine beachscape to still-smouldering volcanic peaks, Martinique offers a striking diversity of landscapes and atmospheres. Mount Pelée famously wiped out the island's former capital of St Pierre in 1902. The fusion of authentic Creole dishes and cuisine Française has created a unique French West Indian flavour that is totally irresistible. You might be tempted to spend your day in a cooking class to learn some new skills.
This afternoon we'll witness Mount Pelée for ourselves as we sail past this icon of the island.
Fort-de-France
Martinique
Caribbean
Day 13 Basseterre, Saint Kitts and Nevis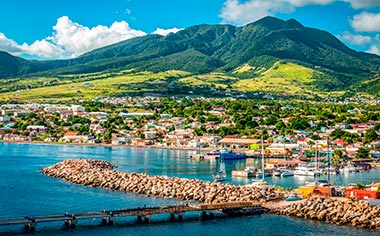 This warm and welcoming two-island nation is ripe with historical sites. The larger Saint Kitts has passed hands among the Spanish, French and English over the years and the architecture is typically British.
You might like to spend the day exploring the island's colonial-era plantations. They serve as a reminder of the tumultuous history of the tobacco, rum, sugar and slave trades that were here for generations.
Alternatively, do as the locals do and kick back on the beach for 'limin' (hanging out, drinking and talking). Ship to shore tender service.
Basseterre
St Kitts
St Kitts and Nevis
Caribbean
Day 14 Saint Thomas, US Virgin Islands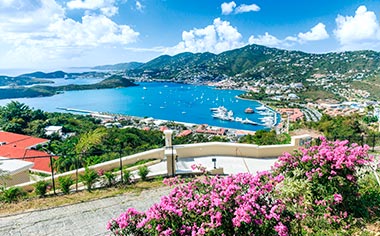 Pristine hammock-strewn beaches, spectacular viewpoints positioned among verdant tropical foliage, fantastic snorkelling - Saint Thomas is just as striking and alluring as any of the islands dropped in the Caribbean Sea, with the addition of an undeniable American twang. Excellent shopping, fancy dining and - rather unexpectedly - an ice museum are some of the island's activities.
Elsewhere, the capital - Charlotte Amalie - is named after the Danish queen and is full of Danish-colonial architecture. The island is also cloaked in extensive parkland just waiting to be explored.
St Thomas
US Virgin Islands
Caribbean
Day 15 At sea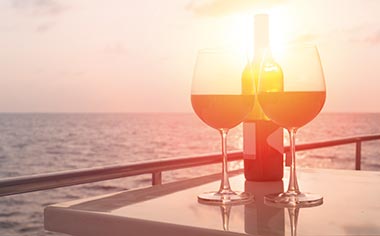 A final full day at sea to make the most of the ship.
Day 16 Half Moon Cay, Bahamas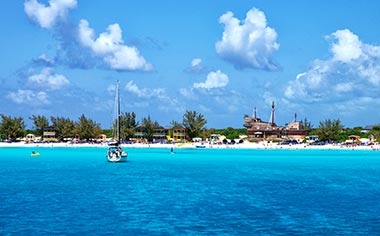 All Bahamas islands are full of tropical wonders and sun-kissed beaches, but Half Moon Cay is Holland America Line's private island in the Bahamas, so you're really in for a special experience.
This crescent-shaped slice of heaven is the highest-rated Bahamas private island and today is all about making the most of its natural beauty. Perhaps take a bike ride around the island, opt for a nature walk, head out on a stingray adventure or take to the waters on a glass-bottom boat ride. Ship to shore tender service.
Half Moon Cay
Bahamas
Caribbean
Day 17 Fort Lauderdale to Miami to UK
We disembark the ship this morning.
You'll have some free time for some last-minute shopping in Miami before we transfer to the airport for the return flight home.
Miami
Florida
USA
North America
Day 18 UK
Upon arrival, your vehicle will be waiting for the journey home.
Miami, Key West and Treasured Islands of the Caribbean Cruise & Tour
USA and Caribbean