Iconic Sydney Harbour and Bridge

New Zealand's beautiful Bay of Islands

Melbourne, capital of Victoria state

Cruise and Tour Moderate
from
£6,159
per person
28 nights
Including optional travel insurance or a price reduction of £120 if not required
Natural Wonders of New Zealand and Australia Cruise & Tour
Australia and New Zealand
New

VIP door to door
All the spectacle of a tour, all the indulgence of a cruise
New Zealand is a treasure trove of natural wonders, and this New Zealand tour will lead you into the heart of it all.
Begin in the spectacular Bay of Islands before boarding a Holland America Line New Zealand cruise, sailing to all the highlights of the North and South Islands, including Fiordland National Park.
We'll also make stops in Tasmania and Melbourne before the cruise ends in sparkling Sydney Harbour, where you'll have three days to explore this world icon. Then swap Sydney Harbour for the Great Barrier Reef as we travel north to Cairns for an unforgettable end to the holiday.
Including...

VIP door-to-door travel service

Included travel insurance

11 nights in hotels, 14 nights cruise on Noordam and 3 in flight

55 meals: 25 breakfasts (days 4-28) 14 lunches (days 9-21 and 26) 16 dinners (days 4 and 8-22)

Tour manager
Plus...
International and internal flights as detailed.†
Travel in destination by coach
Porterage

Excursions and visits
Waipoua Kauri Forest and Kauri Museum
Cape Brett Peninsula cruise
Waitangi Treaty Grounds
City tours of Auckland and Sydney
Sydney sunset cruise and dinner
Great Barrier Reef cruise
†Prices are based on return flights with Singapore Airlines from London Heathrow via Singapore. Supplements may apply from other airports
Day 1 - 2 UK to Auckland
Our VIP door-to-door travel service collects you from home for your flights to Auckland.
Day 3 Auckland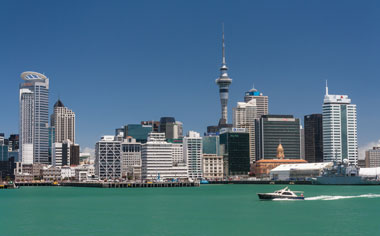 We arrive in Auckland early afternoon and transfer to our hotel.
Day 4 Bay of Islands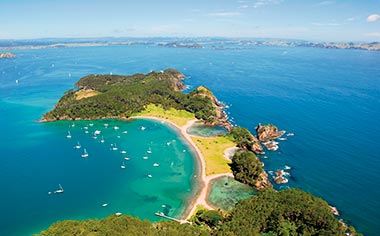 We leave Auckland behind to travel towards the Bay of Islands. We'll stop en route at the Waipoua Kauri Forest, where you'll lay eyes on the mighty Tane Mahuta; a 2,000-year-old Kauri tree. Nearly 18 metres to the first branch and a huge 4.4 metres in diameter, Tane Mahuta has earned the nickname 'The Lord of the Forest'.
We'll continue to the golden sand beaches, secluded coves and turquoise waters of Bay of Islands. The area is also a place of historical significance, as the site of the first permanent British settlement in New Zealand.
Day 5 Cape Brett Peninsula to Waitangi Treaty Grounds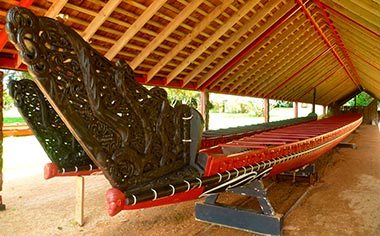 Most of the activity around the Bay of Islands is centred around the invitingly blue waters, whether that's surfing, fishing, diving or cruising in the company of dolphins. On our cruise of Cape Brett this morning, we'll uncover different views of the Bay of Islands - and you'll get an up-close look of the famous 'Hole in the Rock'.
The Bay of Islands is known to Maori people as Pewhairangi and this afternoon, we'll learn more about the history of the area at the Waitangi Treaty Grounds. On this site in 1840, New Zealand's founding document was signed. Through two museums, a guided tour and a powerful Maori cultural performance, you'll come to appreciate how special this area is.
Day 6 Bay of Islands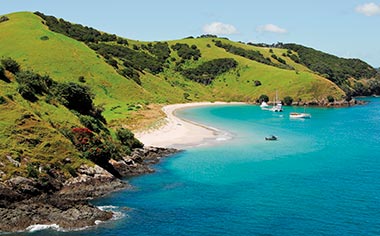 You have today free to spend as you please. Perhaps opt to join an optional excursion to Cape Reinga; an area of spectacular natural beauty, which the Maori believe to be the 'jumping off point' for souls on their journey to the next world.
Day 7 Whangarei to Auckland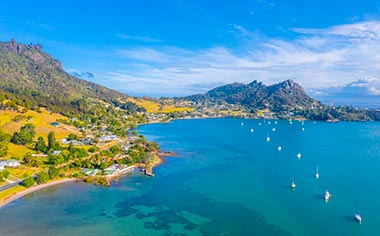 We'll make our way back to Auckland today via subtropical Whangarei, surrounded by striking natural beauty. Mount Parihaka is the highest point in the city and offers the best views, while the town itself is a charming mix of colonial architecture, stylish cafés, art galleries and speciality shops.
We continue along the Hibiscus Coast to Auckland, where you can spend the rest of the day as you please.
Day 8 Auckland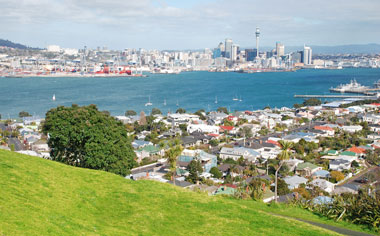 Auckland is a city skyline surrounded by natural delights. Beautiful waters, rainforests, thermal springs and volcanic cones are just the start.
We'll enjoy a tour this morning, visiting the famous Bastion Point overlooking Rangitoto Island and the newly created Britomart and Commercial Bay architecture. This afternoon we depart for the port where we'll embark our ship.
Auckland
Auckland
North Island
New Zealand
Oceania
Day 9 Tauranga (Rotorua)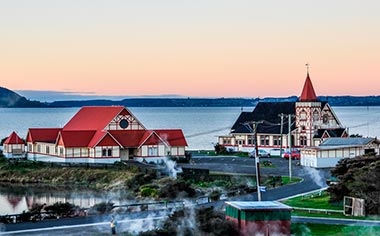 We arrive in Tauranga, the fastest growing provincial area in New Zealand, boasting an abundance of pristine beaches, blooming orchards and prominent hills.
The region is rich in Maori history. The bubbling hot springs of Rotorua are one of the best-loved activities in the area.
Tauranga
Bay of Plenty
North Island
New Zealand
Oceania
Day 10 Napier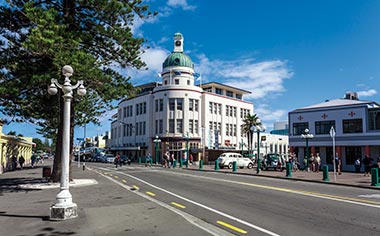 Napier is famed for its curving art deco buildings which were built following a great earthquake and fire in 1931.
It is perched on the coastline of Hawkes Bay - one of New Zealand's leading wine-producing regions, with more than 50 leading wineries. The town also offers a rare opportunity to glimpse a kiwi at the National Aquarium.
Napier
Hawkes Bay
North Island
New Zealand
Oceania
Day 11 Picton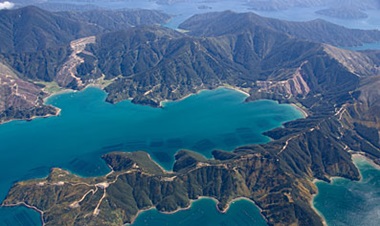 The petite and picturesque port town of Picton is your starting point for exploring the region of Marlborough.
Discover the majestic maritime beauty known as Queen Charlotte Sound, maybe traversing a portion of the extraordinary 43-mile Queen Charlotte Track - New Zealand's greatest coastal cycleway - on foot or by bike.
Or enjoy a glass of sauvignon blanc in the luscious wine country of Marlborough.
Picton
Marlborough
South Island
New Zealand
Oceania
Day 12 Wellington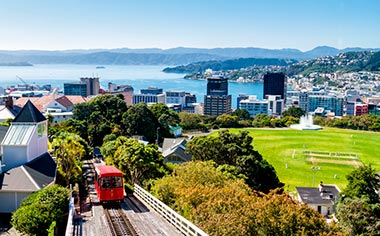 We arrive in New Zealand's compact capital, nestled between the harbour and steep, forest-clad hills. The waterfront area leads from the cruise dock at the eastern end of town to the 'must-see' Te Papa Museum in the west.
Wellington
Wellington
North Island
New Zealand
Oceania
Day 13 Lyttelton (Christchurch)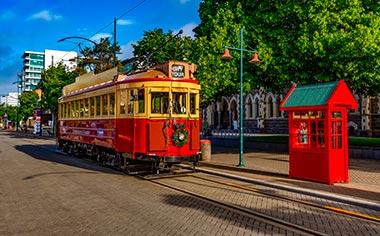 You'll have a whole day to revel in the characterful and completely charming city of Christchurch today. The capital of the South Island is known as the most 'English' of New Zealand's cities.
It's a city of regeneration and innovation and it's constantly changing. In the city centre, cutting-edge architecture jostles with some of the oldest buildings in New Zealand. Hagley Park makes for a wonderful stroll through botanical gardens, fringed by the River Avon. Christchurch is also the basecamp for South Island exploration.
Australia
Oceania
Lyttelton
Canterbury
South Island
New Zealand
Day 14 Port Chalmers (Dunedin)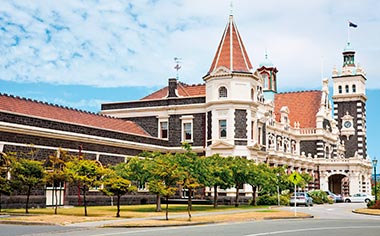 We'll arrive early in Port Chalmers for Dunedin, the distinctly Scottish city of spires, chimneys and glorious Victorian and Edwardian buildings that lie at the head of a long fiord.
Outside the city, the Otago Peninsula is lined with scenic beaches and home to rare birdlife like the royal albatross and yellow-eyed penguin.
Port Chalmers
Otago
South Island
New Zealand
Oceania
Day 15 Cruising Fiordland National Park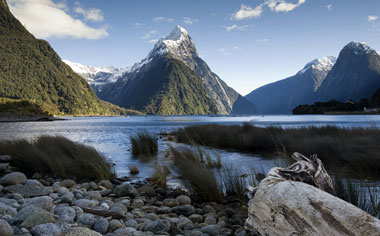 When visiting New Zealand, 'incredible landscapes' is usually high on everyone's wishlist. Visitors find just that and then some in Fiordland National Park. This stunning 12,000-square-kilometre park of mountains, lakes, fjords and rainforests, is mostly untouched by settlers over the years - the steep peaks and wet landscapes acting as a deterrent.
We'll spend a day in complete awe as we sail through some of the most spectacular scenery in the world, where waterfalls tumble down impossibly green peaks and the mirror-like water is perfectly still and peaceful.
Fiordland National Park
Southland
South Island
New Zealand
Oceania
Day 16 - 17 At sea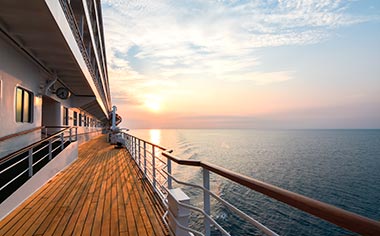 Day 18 Hobart, Tasmania, Australia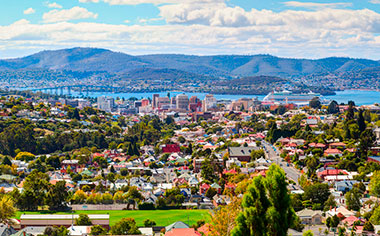 Hobart is compact enough to easily explore on foot. Start at the sandstone area of Salamanca Place with its artist studios, and then roam the quaint streets of Battery Point, one of Hobart's oldest neighbourhoods.
Head out of town to meet the endemic Tasmanian devil or learn more about Tasmania's dark - but fascinating - past in the convict centre of Port Arthur.
Hobart
Tasmania
Australia
Oceania
Day 19 At sea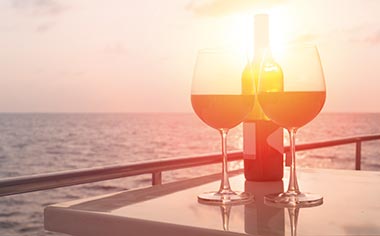 Day 20 Melbourne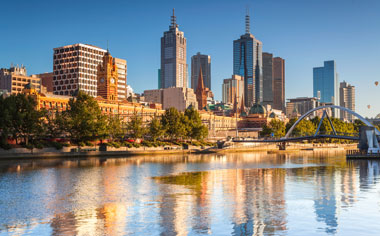 Welcome to this city of cutting-edge art and architecture, historic galleries and museums, beautiful Victorian railway stations, music, sport and fantastic parks full of treasures.
If this isn't enough, then hop on an excursion to one of Victoria's world-class wineries, travel along the spectacular coastline, or visit the famous penguins at nearby Phillip Island.
Melbourne
Victoria
Australia
Oceania
Day 21 At sea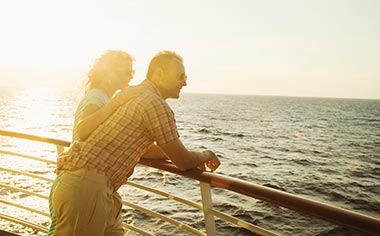 Day 23 Sydney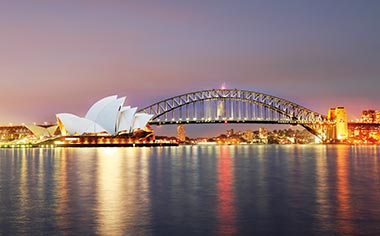 Today is free to explore the city at leisure. In the old Rocks area, you'll find a cluster of some of the city's oldest buildings - quaint streets decorated with small houses and plenty of cafés. There's also plenty of parkland that cuts its way through the city's skyscrapers and it's a great perspective to see the city from. You might spot flying foxes overhead, possums rustling in the bushes and cockatoos screeching from the treetops.
This evening we'll enjoy a sunset dinner cruise. Watch the city light up at night as the sun sets, with the Opera House and Sydney Harbour Bridge as the backdrop.
Day 24 Sydney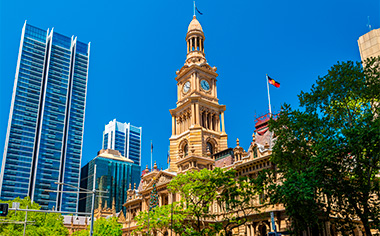 A day at leisure to explore under your own steam in Sydney.
Day 25 Sydney to Cairns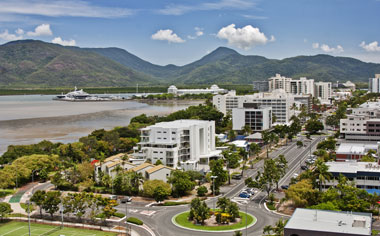 We wave goodbye to Sydney as we fly to Cairns, the heart of Tropical North Queensland. It's an ideal base from which to explore the wider region from, with easy access to the Great Barrier Reef, rainforest, and Outback.
The immediate areas surrounding the city are lapped by beautiful blue waters, so it's little wonder the vibe here is more boardshorts than briefcases - and life revolves around the water. A focal point in the city is the Cairns Esplanade. Almost two kilometres of landscaped parkland fringes a busy thoroughfare and restaurant strip on one side and a natural harbour on the other. On arrival this afternoon, we check into our hotel.
Day 26 Great Barrier Reef
Stretching along 200km of coastline, the Great Barrier Reef is the world's largest reef system - it's even visible from space. But it's not just the size that is impressive, it's the wonderfully rich ecosystem that thrives in these waters. It is completely breathtaking and easily one of Australia's most remarkable natural wonders.
Today you get to see the reef your way. We'll head to Port Douglas, for an exhilarating catamaran journey across the blue Coral Sea to the reef, where you can choose to spend your time exploring as you wish. Perhaps snorkel in the sheltered coral lagoon, view the reef on a semi-submersible tour, take a trip in a glass-bottom boat or view its beauty from the underwater observatory.
Day 27 Cairns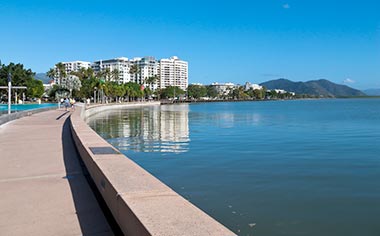 A day at leisure to spend in the city. Perhaps head down to the pier for a taste of the local life - here, an array of award-winning waterfront restaurants, cafés and bars congregate, or you could opt for a spot of shopping.
Alternatively, you might like to spend some time exploring the city's great museums and galleries - specifically the aquarium, which houses a vast range of marine life, the Great Barrier Reef in miniature and some unique experiences.
Or, take a trip into the surrounding tropical parks and forests to spot some of the many species of plants, birds, mammals and reptiles inhabiting the area.
Day 28 Cairns to UK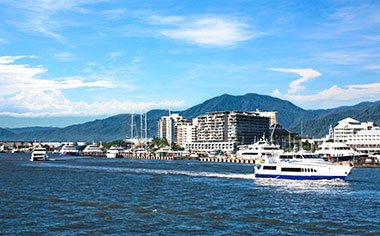 Enjoy a final leisurely morning in Cairns before we transfer for our return flights home.
Day 29 UK
Upon arrival, your vehicle will be waiting for the journey home.
Natural Wonders of New Zealand and Australia Cruise & Tour
Australia and New Zealand