Kinkakuji Temple or 'Golden Pavilion', Kyoto

Icons of Japan: Mount Fuji and the Bullet Train

Escorted Tour Moderate
from
£5,139
per person
13 nights
Including optional travel insurance or a price reduction of £60 if not required
New

VIP door to door
Marvel at the harmonious contrast of Japan's old and new
Ancient and ultra-modern sit shoulder to shoulder in Japan. Over two weeks, we'll experience both, exploring high-paced cities, hushed shrines and temples, and serene gardens.
We'll attend a traditional tea ceremony, learn a little about geisha and samurai culture, catch a glimpse of Mount Fuji and whizz between cities on the sleek, slick Shinkansen (bullet train).
We travel in spring, when cherry blossoms and hydrangea bloom, and autumn, when maple trees are a blaze of fiery red and orange.
Including...

VIP door-to-door travel service

Included travel insurance

12 nights in hotels and 1 in flight

13 meals: 12 breakfasts (days 3-14) and 1 lunch (day 4)

Tour manager and local guide
Plus...
International flights†
Travel in destination by coach
Porterage

Excursions and visits
City tours of Tokyo, Kanazawa (including Kenroku-en Garden), and Kyoto
Mount Fuji Visitor Centre
Visits to Matsumoto Castle, Shirakawago Village, Miyajima Island and Nara (including Todaiji Temple and Nara Park)
Sake tasting at a traditional brewery
Walking tours of Takayama and Hiroshima Peace Memorial Park
Three journeys on the bullet train
Traditional tea ceremony
Lake Ashi cruise
Cable car to the Owakudani Valley and hot springs
†Prices are based on return flights with British Airways from London Heathrow. Supplements may apply from other airports

Portable audio headset system on excursions
Flight

Keio Plaza Hotel

Matsumoto Buena Vista

Takayama Green Hotel

Kanazawa Tokyu Hotel

Rihga Royal Hotel Hiroshima

Kyoto Hotel Okura

Fujisan Mishima Tokyu Hotel

Kawasaki King Skyfront Tokyu Rei Hotel
Day 1 UK to Tokyo
Our VIP door-to-door travel service collects you from home for your overnight flight to Tokyo.
Day 2 - 3 Tokyo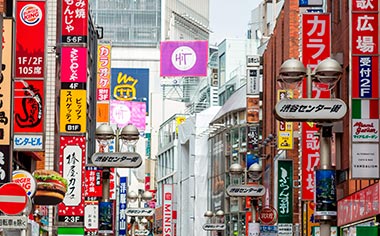 Our hotel in Tokyo places us right in the heart of this buzzing metropolis, in the Shinjuku neighbourhood. A full-day tour helps us to embrace this dazzling city.
We'll take in legendary landmarks like the moated Imperial Palace, the five-storey Asakusa Kannon Temple and the Tokyo Skytree. One of the star attractions is Meiji Shrine, a picturesque Shinto shrine set on a tree-lined avenue.
Day 4 Mount Fuji to Matsumoto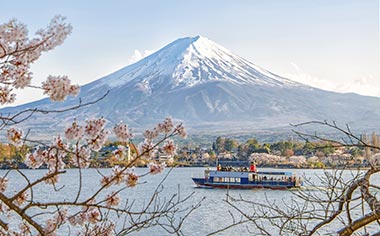 The Five Lakes District is dominated by majestic Mount Fuji - on a clear day, the snow-capped volcano is mirrored on the placid waters of Lake Kawaguchi. After admiring the scenery, we'll continue to Matsumoto.
You stay at either Matsumoto Buena Vista (3.5*) or Alpico Plaza Hotel(3.5*).
Day 5 Matsumoto to Takayama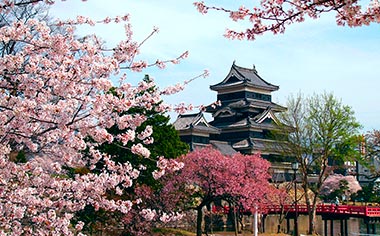 This morning we visit Matsumoto Castle, a striking timber and stone structure with a unique moon-viewing turret. We also take time to sample sake at a traditional brewery.
We'll then travel through the breathtaking Japanese Alps to the hill town of Takayama. We'll call in at the Hida Folk Village, an open-air museum with a collection of antique houses from the region and displays highlighting crafts and ancient traditions.
You stay at either Takayama Green Hotel (3*) or Associa Takayama (3*).
Day 6 Takayama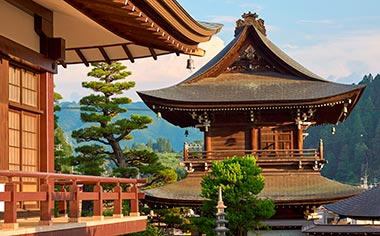 Our walking tour of Takayama, known as 'little Kyoto', showcases this traditional city's highlights, from the open-air flower and fruit market to government house.
Day 7 Kanazawa
We transfer by coach to Kanazawa, visiting the World Heritage Shirakawago Village en route. Kanazawa is a historic castle town, boasting beautifully preserved samurai and geisha districts. Our sightseeing tour includes Omicho market and Higashi Chayagai (the 'teahouse district').
Day 8 Kanazawa to Hiroshima
We pack overnight bags whilst our main luggage is transferred to Kyoto for our arrival on day 10.
A second sightseeing tour of Kanazawa this morning includes the gorgeous Kenroku-en Garden and Buke-Yashiki (Samurai's house). We then transfer to Kanazawa Station to depart for Hiroshima, travelling on express and bullet trains.
Day 9 Hiroshima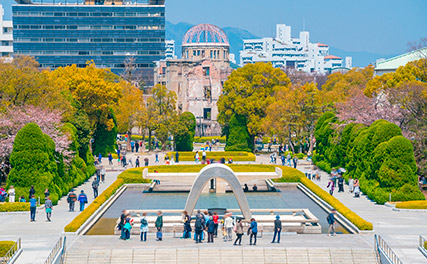 Today, we'll catch a ferry over to Miyajima Island. We'll admire the ancient Itsukushima Shrine - please note that the shrine's torii gate has been under restoration since 2019 and may not be visible. We'll spend some time strolling through the park, which dazzles with red maples in autumn.
Back in Hiroshima, we'll take a walking tour around Peace Memorial Park and visit the Atomic Bomb Museum.
Day 10 Nara to Kyoto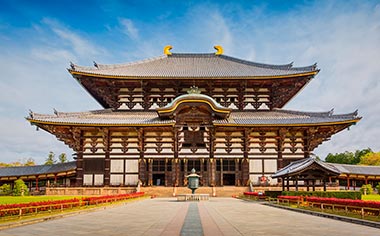 A bullet train takes us to Osaka, where we'll board our coach for the onward journey to Nara, a former capital of Japan. Attractions include the 8th-century Todaiji temple, supposedly the oldest wooden structure in the world. As well as touring the temple, we'll visit Nara Park to see hundreds of freely roaming deer.
Our adventure continues on to culturally rich Kyoto, with its wealth of shrines and temples, colourful gardens, and variety of art and craft shops. We spend time in the Gion area - the country's most famous geisha district.
Day 11 Kyoto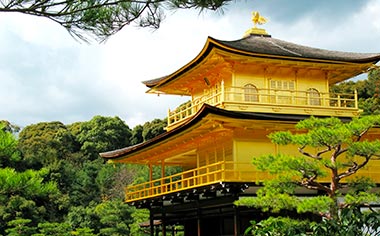 Highlights of this morning's tour include the wonderful Ryoanji Temple (a Zen temple with a famous rock garden), and the beautiful Kinkakuji Temple, or 'Golden Pavilion', whose top two floors are completely bedecked in gold leaf.
We also visit Nijo, a fortified castle with unique 'nightingale' floors designed to replicate the sound of the nightingale song when stepped on.
Day 12 Kyoto to Mishima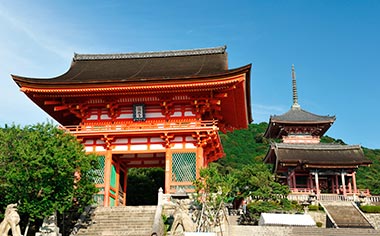 It's time for tea and temples this morning - before leaving Kyoto, we'll visit the Kiyomizu Temple and enjoy a traditional Japanese tea ceremony. Another bullet train whisks us from Kyoto to Mishima.
We'll check into our hotel and if the weather is kind you'll have views of Mount Fuji from your room.
Day 13 Hakone to Tokyo
We drive to Hakone and embark on a cruise on Lake Ashi for stunning views of the snow-capped mountains.
We journey by cable car to the Owakudani Valley and Hot Springs, lying in the crater of Mount Hakone. Later, enjoy marvellous views of Tokyo Bay before continuing to our hotel.
Day 14 Tokyo to UK
Transfer to the airport for your return flight to the UK. Upon arrival, your vehicle will be waiting for the journey home.