Zvartnots Cathedral and Mount Ararat

Mountaintop Gergeti Sameba Church

The snaking battlements of Narikala Fortress, Tbilisi

Khor Virap Monastery on Armenia's Ararat Plain

Escorted Tour Moderate
Armenia and Georgia the crossroads of Europe and Asia for solos travellers
Armenia and Georgia the crossroads of Europe and Asia for solos travellers
Armenia and Georgia
New

Solo Travellers

VIP door to door
Explore the crossroads of Europe and Asia on a dedicated solos tour
This departure is for solo travellers only, and offers the perfect way to explore Armenia and Georgia as they continue to forge their own identities following the era of the Soviet Union. Armenia has some of the earliest Christian churches and art, while Georgia is known for being one of the first wine-producing countries, and still makes wine the traditional way today.
Spend time with local families, sip wines and brandies, cook traditional meals and journey into the beautiful wilderness of the Caucasus Mountains, all the while enjoying the company of your fellow solo guests.
Including...

VIP door-to-door travel service

Included travel insurance

11 nights in hotels

26 meals: 11 breakfasts (days 2-12) 8 lunches (days 2-7, 9 and 11) 7 dinners (days 2-3, 5 and 7-10)

Local tour manager
Plus...
Wine with dinner and lunch whilst in Tbilisi
International flights†
Travel in destination by coach
Porterage

Excursions and visits
Yerevan city tour with cooking masterclass
Khor Virap Monastery, Echmiadzin Treasury Museum and Zvartnots Cathedral
Amberd fortress and Perch Proshyan House-Museum
Geghard and Sevanavank monasteries and the Temple of Garni
Haghartsin and Haghpat monasteries and a Molokan village
Tbilisi city tour
Mtskheta
Stalin's childhood home, Gori
Gergeti Sameba Church
Ananuri castle complex
Funicular ride to Mtatsminda plateau
Kakheti including wine tasting and cooking demonstration
†Prices are based on return flights with Lufthansa from London Heathrow via Frankfurt/Munich. Supplements may apply from other airports>
Grand Hotel Yerevan

Best Western Paradise Hotel Dilijan

Mercure Tbilisi Old Town

Rooms Hotel Kazbegi

Mercure Tbilisi Old Town
Day 1 UK to Yerevan
Our VIP door-to-door travel service collects you from home, for your flight to Yerevan.
Day 2 Yerevan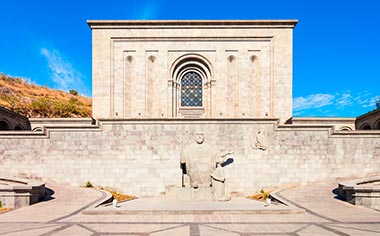 A guided tour of Yerevan offers a glimpse of the Soviet past. We take a look at Armenian culture at the Cafesjian Centre for the Arts, and at Matenadaran, one of the world's oldest and richest book-depositories, holding over 17,000 ancient manuscripts of culture and sciences.
We also visit the Genocide Memorial, the Megerian Carpet Factory, the Sergei Parajanov Museum; and enjoy an Armenian lunch with a culinary masterclass.
Day 3 Yerevan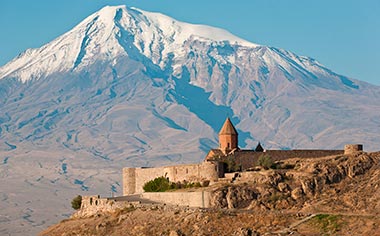 From Khor Virap Monastery, admire the beauty of Mount Ararat. The mountain's snow-capped peak is said to be the resting place of Noah's Ark. The chapel was constructed over the dungeon where patron saint Gregory the Illuminator was imprisoned.
Then in Echmiadzin, our tour includes the cathedral reputed to be the first official Christian church in the world, and the Cross of Armenian Unity, a charity founded to assist orphans. You can participate in carpet weaving or make Armenian dishes before we drive to Zvartnots Cathedral, another impressive UNESCO World Heritage Site.
Day 4 Yerevan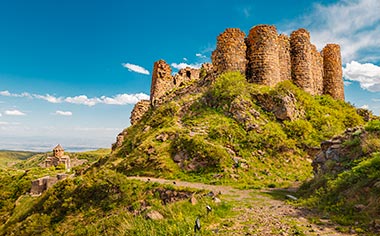 Visit the ruined 7th-century fortress of Amberd. This 'fortress in the clouds' is in a spectacular, rural location on the slope of Mount Aragats. Next is the Perch Proshyan House-Museum, birthplace of the Armenian writer and teacher.
In the Ararat valley grows a unique variety of grapes used to make much loved Ararat brandy. We take a tour of the factory before we taste this national spirit. We'll also visit Yeravan's History Museum today.
Day 5 Yerevan to Dilijan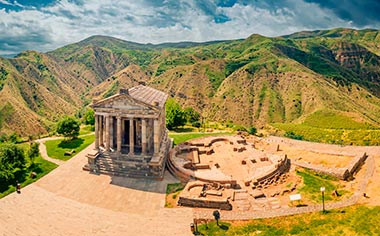 Geghard Monastery is a UNESCO World Heritage Site hewn into rock, and has incredibly haunting acoustics demonstrated during a short recital.
The pagan Temple of Garni is next, with Roman bath mosaics. Lunch is in a family home, before a tour around the village. Later, we visit the medieval Sevanavank Monastery, before heading to Dilijan.
Day 6 Dilijan to Tbilisi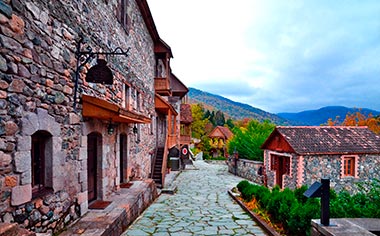 Visit a pottery and the Haghartsin Monastery. Meet Molokans, a Russian Orthodox sect who settled in Armenia after being exiled from Russia several centuries ago.
Visit UNESCO-protected Haghpat Monastery, a masterpiece of religious architecture and a major centre of learning in the Middle Ages. We then cross the border into Georgia, where we stay in Tbilisi.
Day 7 Tbilisi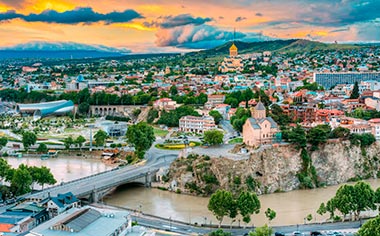 Founded in the 4th century on the site of warm mineral springs, Tbilisi developed into the main city of the Caucasus and was a key stop on the Silk Road - right on the border between Europe and Asia.
Our city tour includes the Old Town, Metekhi Temple, the Mosque and Narikala, the main fortress of Tbilisi.
Day 8 Mtskheta to Gori to Kazbegi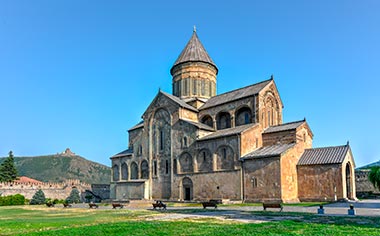 Mtskheta was the capital of the Georgian Kingdom of Iberia between 500 BC - AD 500.
See Svetitskhoveli Cathedral, built on the spot where a piece of Christ's Robe is thought to be buried. Many Georgian monarchs are also entombed here.
We visit the family home of Joseph Stalin in Gori, then head into the Caucasus Mountains.
Day 9 Kazbegi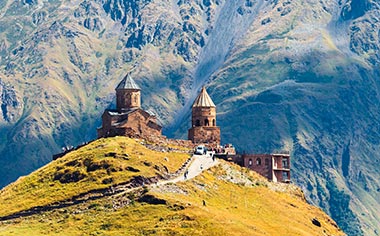 Kazbegi is a picturesque settlement overlooked by the biggest peak of the Caucasus - Mount Kazbek.
We ascend to Gergeti Sameba Church in an incredible mountaintop setting. An optional excursion is available to beautiful Sno Valley and the village of Juta.
Day 10 Ananuri to Tbilisi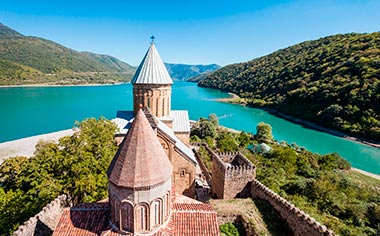 Visit Ananuri castle complex, the scene of many battles including peasant uprisings.
We take the funicular railway to the top of the Mtatsminda plateau for spectacular panoramic views of the city.
Day 11 Kakheti Region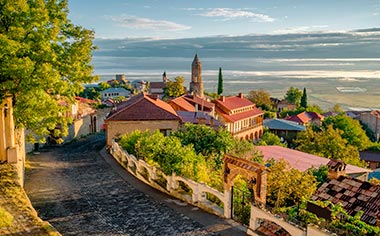 Kakheti, Georgia's famous wine district is filled with acres of vineyards. We head to Sighnaghi for a walking tour, en route to a winery near Telavi, to taste some Georgian wines and watch a cooking demonstration before lunch.
We'll continue to the beautiful ancestral estate of Tsinandali, once owned by Garsevan Chavchavadze, before our final stop of the day in Gremi. This medieval capital is watched over by its striking church topped with turquoise turrets.
Day 12 Tbilisi to UK
Transfer to the airport for your return flight to the UK.
Upon arrival, your vehicle will be waiting for the journey home.
Armenia and Georgia the crossroads of Europe and Asia for solos travellers
Armenia and Georgia