The Great Pyramids of Giza

Valleys of the Kings and Queens

History & Archaeology
from
£2,499
per person
12 nights
Including optional travel insurance or a price reduction of £60 if not required
Land of the Pharaohs Archaeology
Egypt
Full board
Explore some of ancient Egypt's best known archaeological treasures and cruise the Nile
This exciting holiday focuses on the archaeology of ancient Egypt. You'll be able to visit and explore some of the great sites including the Pyramids of Giza and the Sphinx, Abu Simbel and Valleys of the Kings and Queens.
All your visits will be accompanied by a knowledgeable local guide, helping to ensure you get the most out of your visits. There will also be three archaeological talks at your hotel, perfect for helping to understand of the archaeology of this fascinating country. Your Saga Tour Manager will advise you which evenings the talks will take place. You can also look forward to a cruise along the River Nile on board your Presidential Nile ship, the perfect base from which to explore and to also enjoy a little relaxation as your cruise through the countryside.
Including...

Included travel insurance

6 nights in hotels and 6 on board cruise ship

35 meals: 12 breakfasts (B), 11 lunches (L) and 12 dinners (D)

Free bar open up to 12 hours a day serving local drinks throughout the tour*

Expert Host
Plus...
Saga tour manager
Included themed activities
Expert Host Talks
Hosted welcome drinks reception
Meet and greet with expert host
Leisure time
Free hotel Wi-Fi
Return flights and transfers
Hotel porterage

Included excursions and visits
Cairo tour and Egyptian Museum visit
Memphis and Sakkara Necropolis
Pyramids of Giza
Aswan High Dam and Temple of Philae
The Temple of Kom Ombo
Abu Simbel by road
The Valleys of the Kings and Queens
The Temples of Karnak and Luxor
Please note: VIP door-to-door travel service is not included on our Land of the Pharoahs tour departures.
*The free bar, available in all outlets, is open from 11am to 11pm and serves local alcoholic and non-alcoholic drinks, plus hot and soft drinks.
Day 1 UK-Cairo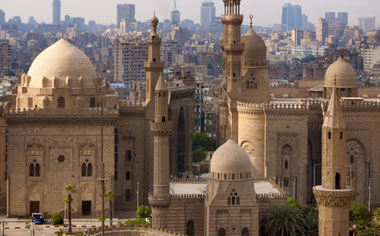 Fly to Cairo and stay three nights at the 5-star Pyramisa Cairo Hotel (4Q). Set in the heart of Cairo, overlooking the Nile, the hotel is close to a downtown shopping area. D
Day 2 Sightseeing tour of Cairo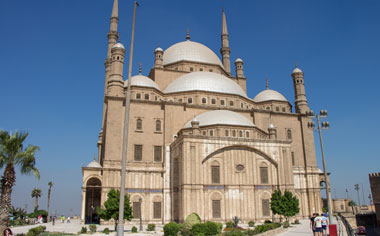 An included tour of Egypt's compelling capital visits the Citadel and Mohammed Ali mosque. This afternoon, an included excursion visits the world-famous Egyptian Museum, which houses artefacts from Tutankhamun's tomb. B, L, D
Day 3 Memphis and Sakkara, and Giza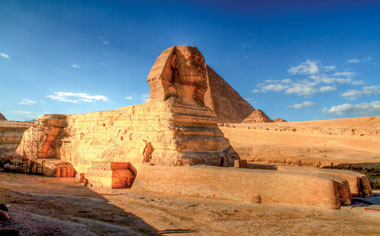 Memphis was one of the greatest cities of the world from 3,100BC until Roman times and now consists of scattered ruins, alabaster sphinxes and statues among the palm groves. Continue to Sakkara – an immense necropolis about eight kilometres long and one-and-a-half kilometres wide, which was used from prehistoric times until the Roman period. Next visit the three Pyramids of Giza – the Great Pyramid of Cheops and the two smaller pyramids of Mycerinus and Chephren – which have become the symbol of Egypt. Wonder at these along with the Sphinx, carved out of a natural outcrop of rock in the form of a lion with a human head.
Entrance into the Great Pyramid is not included (and is at times prohibited). The pyramids can be closed at times for restoration work, and entrance to the interior may be prohibited. B,L,D
Day 4 Cairo-Aswan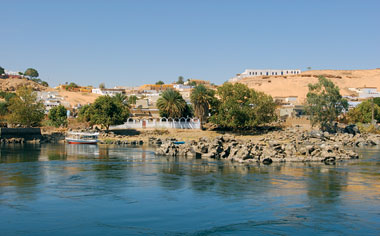 Fly to Aswan (90 minutes) for three nights at the 5-star Pyramisa Isis Island Hotel (4Q). B, L, D
Day 5 At leisure
Enjoy some free time in Aswan, which occupies a beautiful setting on the Nile or alternatively, join an optional excursion to a botanical garden or to a Nubian village. B, L, D
Day 6 Aswan High Dam and Philae Temple
Included trip to Aswan High Dam and the Philae Temple complex. B, L, D
Day 7 Aswan to Luxor to Edfu
Rise early and travel by train from Aswan to Luxor (three hours). Upon arrival, board MS Nile Plaza (5⚓) for a six-night Nile cruise.
Enjoy lunch on board before sailing to Edfu, on the west bank of the Nile, where you'll moor overnight. B, L, D
Luxor
Luxor
Egypt
Africa
The Nile
Day 8 Kom Ombo to Aswan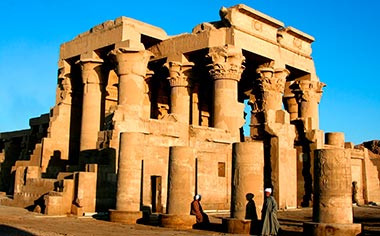 Sail to Kom Ombo in the morning and visit the ancient temple dedicated to Horus and Sobek. Continue sailing to Aswan where you moor overnight. B, L, D
Day 9 Abu Simel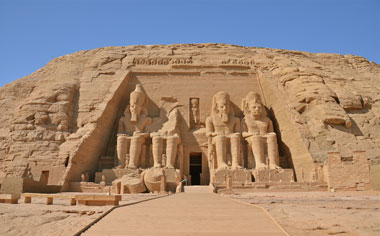 An early start is required for the journey to Abu Simbel by road for your included excursion.
A local guide will take you around the monuments, a magnificent complex of rock-cut temples dedicated to Ramses II and Queen Nefertari. The great temple has four giant statues of Ramses II guarding its entrance, each 20 metres tall, and there are also beautiful carvings. The smaller temple of Hathor, the goddess of happiness and love, has six large statues on its facade.
Later return to Aswan where you remain moored overnight. B, L, D
Abu Simbel
Nubia
Egypt
Africa
Day 10 Aswan to Edfu
Spend the morning at leisure. This afternoon, continue your river cruise back to Edfu. B, L, D
Day 11 Luxor
Spend the morning at leisure then continue to Luxor where you will moor overnight.
This evening enjoy a farewell dinner. Perhaps join an optional excursion to a Sound and Light show. B, L, D
Day 12 Valleys of the Kings and Queens
You'll pass the Colossi of Memnon, gigantic statues that once guarded the funerary temple of Amenophis III,on today's included excursion. The highlight will undoubtedly be a visit the City of the Dead in Thebes where you can walk through the Valleys of the Kings and Queens.
In the afternoon, perhaps take the opportunity to visit the Karnak and Luxor Temples on an optional excursion. B, L, D
Valley of the Kings
Luxor
Egypt
Africa
Day 13 Luxor-UK
Travel to the airport for your return flight home. B
Land of the Pharaohs Archaeology
Egypt