Visit the ancient city of Lamego

Casa de Mateus Palace gardens
Party Spirit on the Douro
Douro
VIP on selected river cruises

Exclusive to Saga

All Inclusive
Cathedrals, palaces and port – this Douro cruise explores the many sides of Portugal
Admire the beautiful landscapes and quaint towns of the Douro Valley on this cruise through Portugal which includes a visit to Salamanca in Spain. Your holiday is set to the soundtrack of classic 60s and 70s music, performed live on board by Party Spirit Duo on five nights of your cruise.
Including...

Included travel insurance

20 meals: 7 breakfasts, 6 lunches and 7 dinners

Free bar on board open 12 hours a day†

Saga Cruise Assistant
Plus…
Return flights and transfers
Captain's dinner and drinks reception
Entertainment and activities on the ship
Five live music performances from Party Spirit Duo
Two briefings from your band leader
Complimentary Wi-Fi on board

Included excursions
Tour of Lamego
Visit Figueira Castelo de Rodrigo
Sightseeing in Salamanca
Dinner at a local quinta
Casa de Mateus Palace
A tour of beautiful Oporto including a port wine cellar visit
†Free bar on board is open from 11am to 11pm serving non-branded alcoholic and non-alcoholic drinks
Day 1 UK to Oporto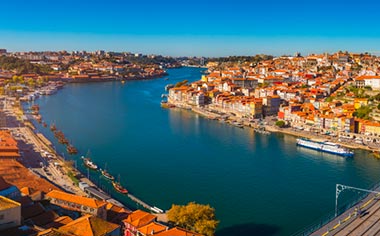 Fly to Oporto on the north bank of the Douro and embark your ship the Douro Queen at Vila Nova de Gaia on the south bank. You'll remain moored here overnight.
You'll get the chance to Meet the Band tonight and find out how they got into the business before your first concert, entitled Welcome to the Swinging 60s and Rocking 70s. Look forward to hearing music including The Beatles, Rolling Stones, The Who, Stevie Wonder and Elton John.
Oporto
Porto
Portugal
Europe
Day 2 Oporto to Régua to Pinhão
This afternoon travel by coach from Régua to Lamego, one of the most attractive cities in Portugal.
On arrival, you'll see the elaborate Sanctuary of Nossa Senhora dos Remédios, which is set atop nine steep terraces overlooking the town. There'll be free time to explore this impressive baroque church and walk down into the city from the Sanctuary using the ornate staircase – but be warned, there are almost 700 steps! Alternatively, take the coach down to the city and visit the lovely Gothic cathedral, which in parts dates back to the 12th century!
Re-join your ship in Régua then continue your cruise to Pinhão. Tonight's second concert - 60s Top of the Pops - features chart-toppers from the 60s including Elvis, The Beatles, The Kinks, Tom Jones and The Monkees.
Pinhão
Alijo
Vila Real
Douro
Portugal
Europe
Day 3 Pinhão to Vega de Térron
Depart Pinhão early this morning and take in the scenery as you sail towards Vega de Térron.
This afternoon, join an included excursion to Figueira de Castelo Rodrigo, a small medieval village with a stunning hilltop location. See the 18th-century baroque church and stroll around the village in your own time.
Back on board ship look forward to a traditional Portuguese dinner before another concert - 70s Top of the Pops - featuring the music of Rod Stewart, Barry White, David Bowie, The Carpenters and more.
Vega de Terron
Castile and Leon
Spain
Europe
Day 4 Vega de Térron to Barca d'Alva
Today join an included excursion across the border to the city of Salamanca in Spain, a UNESCO World Heritage Site famed for its beautiful old university buildings of golden-coloured stone.
The journey here usually takes about two hours, during which your guide will give an interesting commentary on Spanish history. After half an hour of free time join a walking tour with a local guide to the magnificent Plaza Mayor, one of the finest town squares in Spain. You also see the famous cathedral, built in two parts. The original Catedral Vieja, which dates from the 12th century, is now incorporated into the much larger 16th-century Catedral Nueva. Lunch will be served at a local restaurant, followed by a flamenco show to give you a taste of traditional Spanish culture.
Return to the Douro Queen which will now be in Barca d'Alva and moor overnight. You can enjoy a talk entitled Disco Fever to get an overview of the music and artists that fuelled the Disco craze of the 1970s before another concert, with music from The Jacksons, The Bee Gees, Earth, Wind and Fire and Gloria Gaynor, among others.
Barca dAlva
Guarda
Portugal
Europe
Day 5 Barca d'Alva to Pinhão
Depart Barca d'Alva and enjoy the wonderful views as you spend the morning sailing towards Pinhão, arriving after lunch.
This afternoon pay a visit to Quinta do Seixo, a local winery. Here you'll join an included tour of the estate, followed by an opportunity to taste their port wines. This evening there'll be an included trip to a local quinta for dinner, with wine and entertainment included.
The ship remains moored in Pinhão overnight where you can listen to your final concert, the uplifting Musical Kaleidoscope mixing hits from throughout the two decades in a spectacular finale.
Pinhão
Alijo
Vila Real
Douro
Portugal
Europe
Day 6 Pinhão to Regua to Entre-os-Rios
Sail from Pinhão to Regua early this morning.
From here an included excursion visits Mateus Palace gardens. Your guide will give you an introduction to the palace, one of the loveliest country houses in Portugal and which famously features on the Mateus rosé wine label. Explore these exceptional formal gardens as well as examining the exterior of the palace. Enjoy the afternoon at leisure on board as the Douro Queen departs Régua and look forward to a traditional Portuguese folk music show after dinner.
Moor overnight in Entre-os-Rios.
Entre os Rios
Douro
Portugal
Europe
Day 7 Entre-os-Rios to Oporto
Spend the morning at leisure as you sail back towards Oporto.
Learn the history of Portugal's second-largest city on an included tour. This famous centre of port wine production is beautifully located on the Douro estuary. The coach tour includes a visit to Sé Cathedral, which dates from the 12th century, and is where Phillipa of Lancaster married King Joao I of Portugal in 1387 becoming the first and only English queen of Portugal. Your tour also includes a visit to a port wine cellar where you'll learn about the production of this famous drink and enjoy a tasting.
Remain moored in Vila Nova de Gaia overnight.
Oporto
Porto
Portugal
Europe
Day 8 Oporto to UK
Disembark after breakfast and travel to the airport for your return flight to the UK.
Jeremy Huggett – Saxes, Keyboards & Vocals
'Jez' started his musical career at an early age when he learnt flute and piano, later adding saxes and clarinet to his repertoire. Jeremy now plays tenor, alto, soprano and baritone saxes, as well as flute, clarinet, vocals & keyboards. He also writes his own compositions.
His early musical career saw him receive a number of awards including Best Reed Player in the UK. Since then, Jeremy's gone from strength to strength playing a wide range of musical styles including 60s, 70s, Rock & Roll, Swing, Jazz, Blues, Rock & Pop both in the UK and abroad. During his career Jeremy has played at Celebrity Weddings and Parties and appeared live on BBC national television and radio. As well as leading his own bands Jeremy's musical skills and versatility have been in great demand from other bands. Since December 2000, Jeremy has been guesting on saxes and flute with legendary rock group, Hawkwind.
Kevin Grenfell – Trombone, Trumpet & Vocals
Kevin started his musical career as a boy with the Cornwall Youth Orchestra and brass bands in Cornwall. With this firm grounding Kevin enlisted at the age of 18 as a musician in the Queen's Own Hussars, Royal Amour Corps and studied for two years at The Royal Military School of Music. On completion he returned to the QOH as principal trombone and featured soloist, which involved extensive touring and concert engagements all over Europe.
After leaving the army Kevin obtained a B.A. in Music and the Performing Arts. Since that time Kevin has become well-established and respected as a trombonist, trumpet player and vocalist in the UK and tours extensively across Europe with a wide variety of bands playing everything from Rock & Roll, 60s and 70s to Jazz and Swing.
Party Spirit on the Douro
Douro